D1 Arrive in Beijing
Today we will arrive in Beijing, the ancient capital of China with over thousand years' history. Receive a welcome from our guide and then transfer to hotel, and you also learn your first Chinese " Nin Hao " for greeting.
D2 Beijing City Excursion ( the Great Wall / Ming Tomb / Beijing Roast Duck ) (B,L,D)
The Great Wall will be our first destination. As Chairman Mao has said: "Walk on the Great Wall, and to be a real man". We will walk on this ancient stone stage on feet, and trace the ancient history of China through the old wall and mountains. In the afternoon, a visit to the Ming Tomb will be an interesting adventure for us, where we will see how the emperors desired for immortal. In the evening we will enjoy a delicious Chinese banquet with the well-known Beijing Roast Duck, and you will see how Chinese treat their food as arts.
D3 Beijing City Excursion ( The Forbidden City / the Summer Palace/ The Heaven Temple ) (B,L)
Today we will explore the mysterious palace of Chinese emperors, the Forbidden City, which boasts having 9999 rooms and could be the biggest palace in the world. In the afternoon we will have a leisure walk in the emperors' royal garden, the Summer Palace. They tried to move all the best in the country to their private garden. And we will also walk around in the quiet and wide Heaven Temple, which is used to worship emperor's ancestors and pray for a harvest season.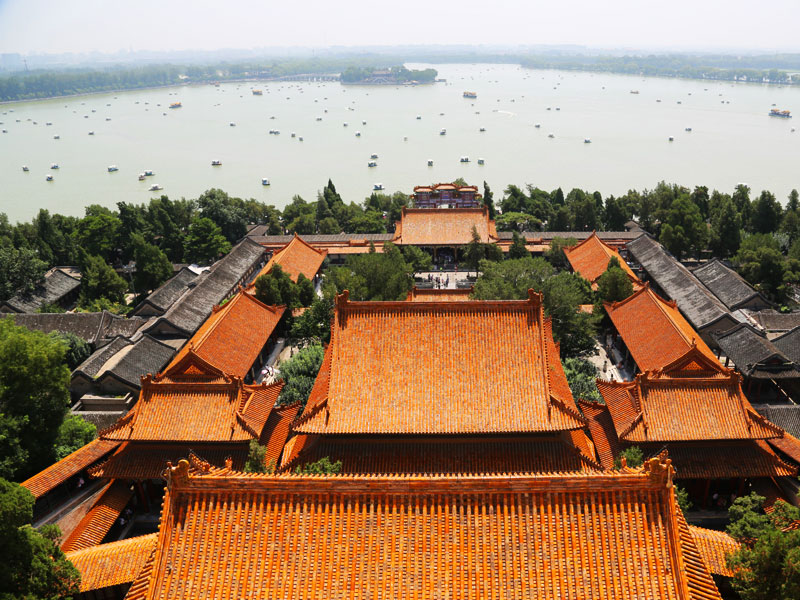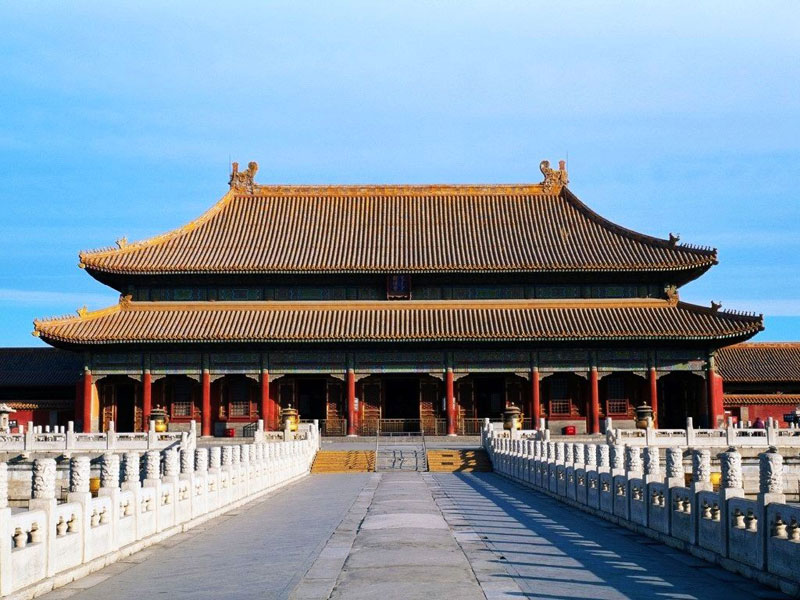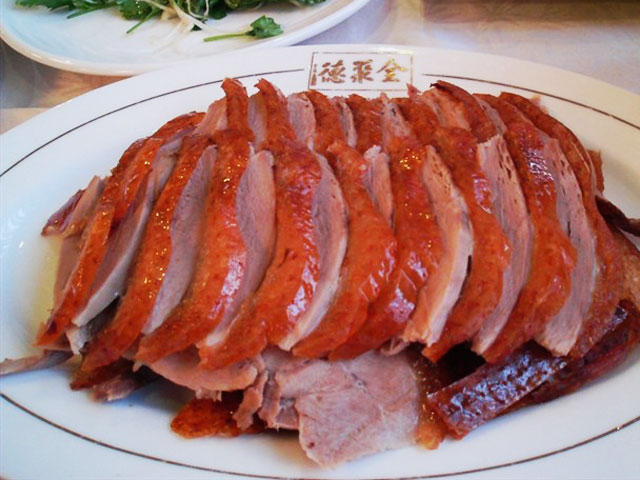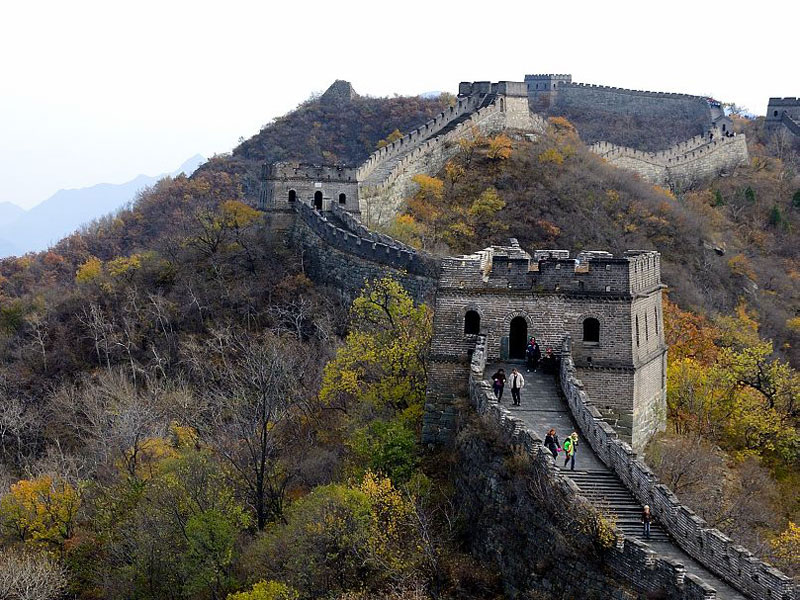 D4 Beijing/ Lhasa (B,L)
Fly to Lhasa in the early morning. Landing on the Gongka airport, you will feel the difference of plateau immediately both physically and physiologically. Standing at over 12,000 feet above sea level, Tibet, you arrive! Receive a warm welcome from local Tibetan guide; we will drive to Lhasa city. The Yalongzangbo River, villages, Buddhism inscription en route, all will show you a different land. Just try to find your experience in this beautiful land. Free in the afternoon to be acclimated.

D5 Lhasa City Tours ( Potala Palace /Sera Monastery /Tibetan Family Visit ) (B,L)
As winter palace of Dalai Lama, the Potala palace worked as a political and religious centre in Tibet. It also shows the wonders of architecture to the world. Standing on the top of Red mountain, it overlooked all over Tibet. We will explore its mystery. In the afternoon we will explore Grand Sera Monastery. If you are lucky enough, you can watch interesting Buddhism scripture debating by the monks. And we will also be guest in a local Tibetan family in the late afternoon
D6 Lhasa City Tours ( Jorkang Temple / Barkor Street / Drepung Monastery /Tibetan Carpet Factory/ Tibetan Dancing shows ) (B,L,D)
The wonders of Tibet continue to unfold today. We begin with the holiest temple in Tibet, the 1,300 year old Jokhang Temple. Then we will have a leisure walk in famous Barkhor Street. This market has been providing all necessaries for the Himalayas for 1,000 years. It is also a good chance for your shopping! Drive outside the city to Drepung Monastery, which was the largest monastery in the world with 10,000 resident monks in its peak. In the late afternoon drop a visit in the Lhasa Tibetan Carpet factory. A Tibetan style dinner in Yak Restaurant and watching Tibetan dancing show in the evening will be the highlight of our trip!
D7 Lhasa /Gyantse / Shygatse (Yamdok Lake / Palgor Chorten) (B,L)
Driving across the Ganbala Pass ( 4200m ) will be a challenge to our physical ability, but we will be rewarded by the overview of beautiful Yamdok Lake immediately. After enjoying the grassland and yaks en route, we will arrive in Gyantse at noon, then we will visit the extremely beautiful Palgor Chorten (Kumbu Monastery). In the late afternoon drive to Sygatse.
D8 Shigatse / Lhasa (Tashilunpo Monastery) (B,L)
As the base of Panchen Lama, Shygatse placed as the business and political centre of back Tibet. The Grand Tashilunpo Monastery will show us again about the wealth and power of Tibetan Buddhism. We will drive back Lhasa along wide Yalongzangbu river in the afternoon via the new road. Then you will be free to explore the city.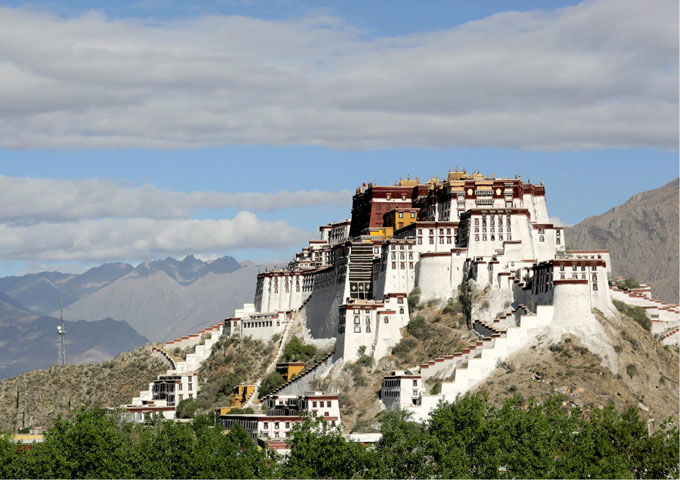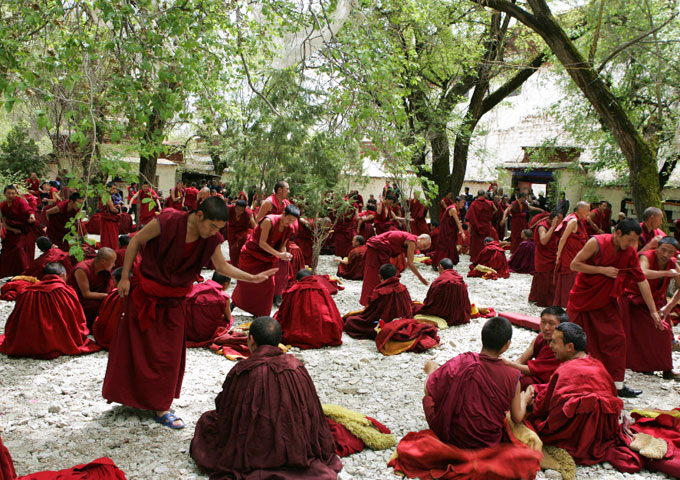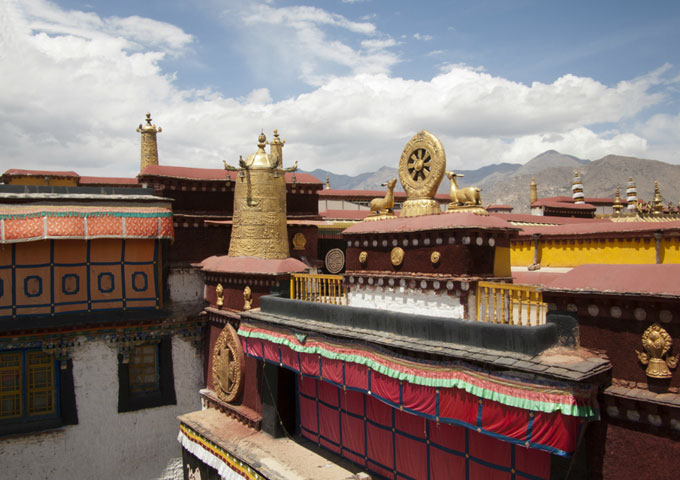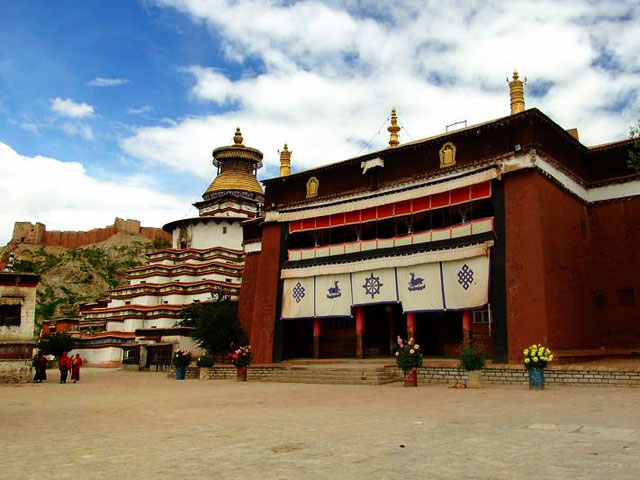 D9 Lhasa /Shangri-la ( Songtanlin Monastery ) (B,L)
In the morning we will fly to Shangri-la. After a warm reception from local guide, then we will visit the Songtanlin Monastery. It is called Mini-Potala, and then you are free to explore this small but quiet Tibetan town in the afternoon. Night in local hotel.
D10 Shangri-la Exploration ( Bitahai Lake )(B,L)
The Bitahai Lake and Napahai Lake are two pearls in this land. We will enjoy the beautiful lakes and virgin forest around. You may also make short time's riding or hiking around it.

D11 Shangri-la / Lijiang ( Tiger Leaping Gorge / Sifang Jie Street )(B,L,D)
Drive to Lijiang in the morning, but we will visit the Tiger Leaping Gorge en route. The surging river of Jinsha River, also the upper part of Yangtze, jumps from the deep valley and makes thundering soaring. Arrive in Lijiang in the afternoon, and then we will relax in the old town of Lijiang. Do some shopping in the bazaar of Sifang Jie Street ( the square Street ).
D12 Lijiang ( Rock Village / Black Dragon Park / Naxi Symphony ) (B,L)
There are many interesting places in Lijiang. But we will visit a Naxi village to explore the life of Naxi people. The village lived by American adventurer Joseph Rock in 19 century may be a good choice. Then we will visit pretty Black Dragon Park, also included the Naxi Ethnic Minority Museum. Enjoy a Naxi Musical Symphony in the evening.
D13 Lijiang / Kunming ( Stone Forest / Bird and Flower market ) (B,L)
Fly to Kunming in the morning. Then we will drive to Stone Forest. It is world famous for its Karst geographical features. Here our guide will tell you the romantic tale of Asima. And we will also visit the bird and flower market in the city in the afternoon.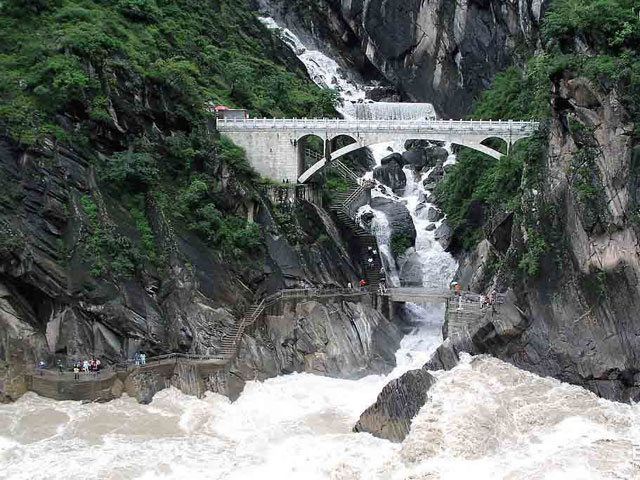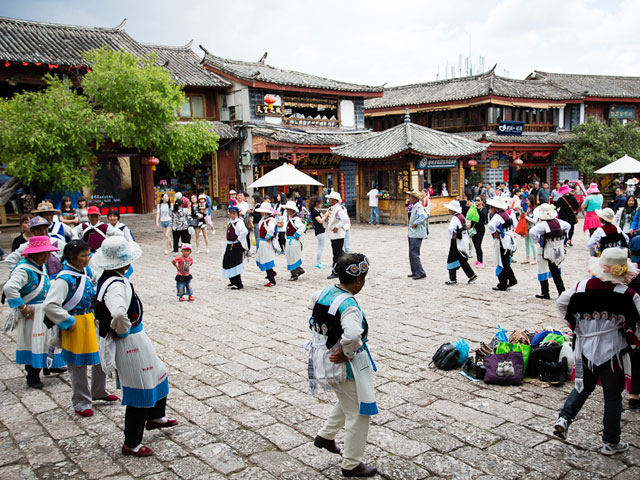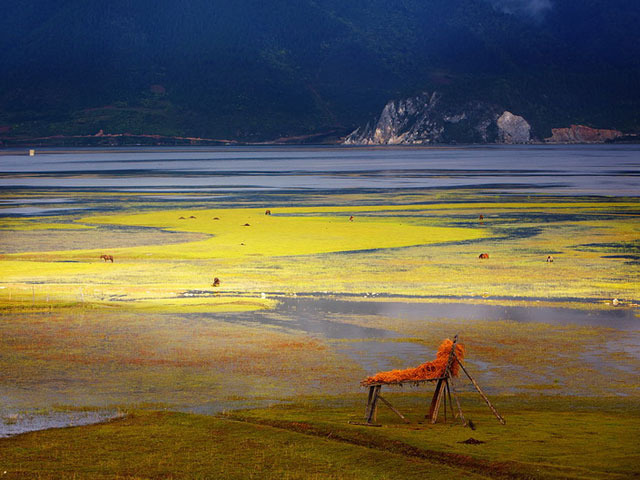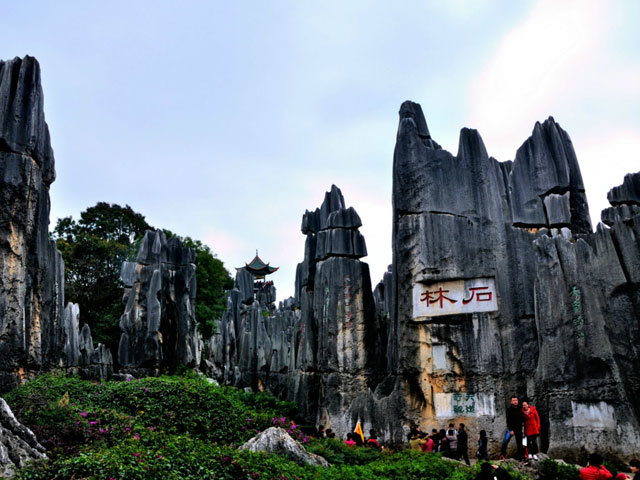 D14 Kunming/ Shanghai (West Hill ) (B,L)
In the morning we will visit the West Hill. Try to ascend the Golden Palace and Dragon gate to have a bird's eye view of the wide Dianci Lake. Fly to Shanghai in the afternoon.
D15 Shanghai /Suzhou (Humble Governor's Garden / Silk Museum ) (B,L)
Drive to Suzhou in the morning. The Suzhou Gardening is the most beautiful in China, and each of them will show us how ancient Chinese rich people enjoyed their life. The Humble Governor 's Garden is the best of them. And we will relax in the Tiger Hill Park in the afternoon. Then visit the Silk Museum to learn the long history of silk and embroidery. Night in hotel. (B , L , D)
D16 Suzhou /Tongli /Shanghai ( Tongli Water Village / Huangpu River Cruise ) (B,L)
Tongli is a river channels crossed villages and still remain its traditional culture. We will explore this water village in the morning. In the afternoon we will drive back to Shanghai. The night of Bund deserve our trying. And the night cruise of Huangpu River will leave us life standing memory.
D17 Shanghai City Tour (Yu Garden/ The Shanghai World Financial Center/Xin Tian DI ) (B,L)
Our tour continues with a visiting to Yu Garden, famous for its rock gardens, pavilions, halls and ponds. The Shanghai World Financial Center, a super tall skyscraper which reaches 492.3 meters (1,615.2 ft) and became the tallest structure on mainland China, including Hong Kong, as well as the world's third tallest building (including unfinished ones), after the Burj Dubai and Taipei 101.Then we will go to Xin Tian DI (Heaven on Earth), a conservation area of traditional low-rise homes, formerly part of the French quarter.
D18 Shanghai Departure (B)
In the morning we will head to air-port , say "Zai Jian "to China and leave China with sweet memory.
Our prices included:
1.All of the accommodation. For tourist class, hotels will be around 3 star level, and 4 star level for superior class, and 5 star level for deluxe class. We will arrange them according to their location and facilities. Each 2 people share one room.
2.The meals as schedule listed. Breakfasts in the hotel, Chinese lunches at local restaurant, and part of special flavor dinners.
3.Tour site tickets.
4.Good and experienced English guide.
5.Yangtze cruise. 4-5 star.
6.Domestic flights from Xi'an/ Dunhuang, Urumqi / Kashgar, Kashgar / Urumqi / Chengdu, Chengdu / Lhasa , Lhasa / Shangri-la, Lijiang/ Kunming, Kunming / Guilin, Guilin /Chongqing, Yichang/ Shanghai.
7.Trains. Night train will be all soft sleeper, every 4 people share one compartment, day time train will be soft seats.
8.All of the transportation in the airport / hotel, tour site between. Private car will be arranged in the city, and long distance bus may be arranged in some cities between.
9.insurance with the highest refund of RMB 300000.00/ per people
Our prices not included :
1.Your international flights arrive in Beijing and leaving Shanghai.
2.The tip to guides and drivers. It will be shared according to the number of travelers.
3.Your medicinal cost due to your own health condition.
4.The cost of China visa, but we can provide China visa invitation letter free.
5.Shopping.
6.Any of other service we have not included.
1. Above prices of single supplement do not include Yangtze cruise and train.
2. Price of Tibet may rise in July and August, so please double check it with us before your booking.
3. Better discount is available when travel in low season from Nov to March or when travel in a large group. Please contact us for more details.
If you require, we can book hotels in Chengdu, and make private airport and city tour necessary.
Are you interested in this itinerary? Send us a message and let us help you plan and book your China vacation based on this sample. Response within 24 hours. Contact our Travel Consultant.