China Kungfu Tour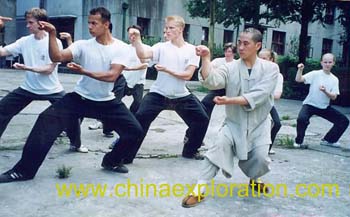 China Kungfu, also called Wushu, or martial arts, is a cultural heritage of the Chinese people which has been enriched through the 2000 years' history. It emphasizes both in the external movement and full display of the internal temperament, mental attitude and potential of the human being. With its graceful movements and salubrious effects on health, it has a strong appeal to a vast multitude of people. Kungfu falls into the big series of Shaolin, Wudang, Qingcheng, Emei, Taiji, Qigong, and many other small schools.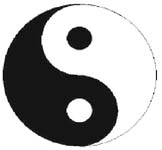 Taiji is an important part of Kungfu. Taiji is practiced daily by millions of people around the world for its health, relaxation, and self-defense benefits. As a health exercise, Taiji helps improve balance, lower blood pressure, and relaxation. It uses the method of "softness overcomes hardness.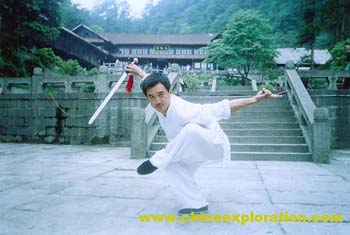 Kungfu is also attracting more and more western learners recently when Hollywood movies shot more on it. Its incredible charm is irresistible worldwide. China Exploration has built up connection with the masters and schools of each Wushu section in order to help learner of Kungfu. In our service, you can either make a long time's learning for months, or just a few days' experience.
CE-CT-09
Mt Wudangshan Kungfu, Taiji & Qigong Learning Tour
As a Holy Land of Taoism and a cradle of Wudang Kungfu, Wudang Mountain has a history of more than 2000 years. At the end of Yuan Dynasty and the beginning of Ming Dynasty, Wudang Taoist Zhang Sanfeng integrated the main achievements of Wudang Boxing and created the Wudang inner Boxing, which made him the respectful founder of Wudang Martial Art. Wudang Kungfu has been once unknown to the outside for fairly a long time due to the tradition of Daoism of instructing privately and separately.
The Academy of Wudang Taoist WuShu Arts owns a group of masters who have won many times in martial art competitions both here and abroad with one of the authentic inheritors of SanFeng school of Wudang Mountain as its chef master. Based on its deep-rooted inside culture of traditional Taoist Martial Art, we have cultivated hundreds of people with martial art ability, which enjoys a high reputation in the martial art circle both at home and abroad.
The major teaching content of The Academy of Wudang Taoist WuShu Arts is divided into three kinds: Boxing: Xingyi, Eight Diagrams,LiangYi, Tiger Taming, Ba Ji, Long Hua, Xuan Gong, highest harmony boxing etc;With weapon: sword, spear, blade, stick, convenience shovel, horsetail whisk.etc; Taiqi health preservation: SanFeng Taiqi, Five Elements cultivation Qigong, Taiqi of thirteen forms, brocade of eight sects, Taiqi Hun Yuan, Sanfeng Taiqi sword, Wudang inner Qigong. According to the Taoist tradition it will be taught personally by the masters.
In this trip, you can learn some Qigong, Taiji or Kungfu, and also enjoy the beautiful nature and culture of mid China.
Schedule: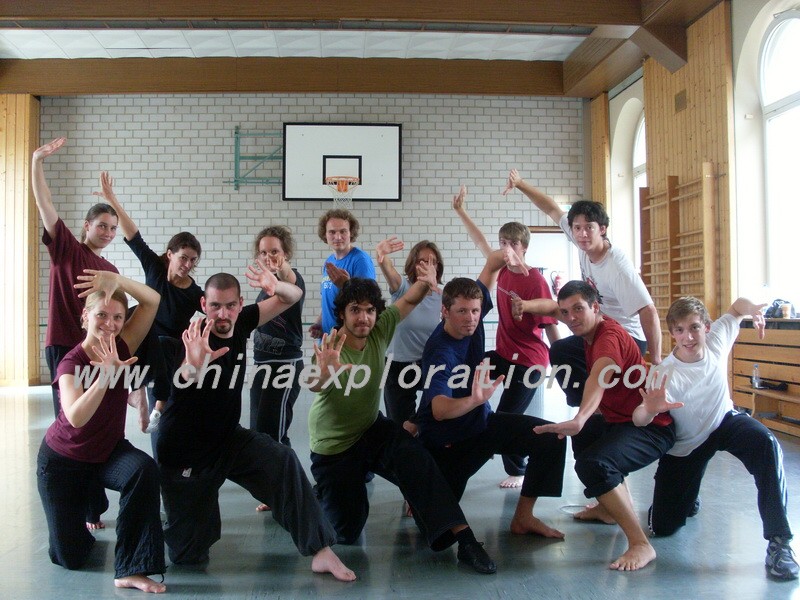 D1 Xi'an
Arrive in Xi'an in the day, arrange some city tour accordingly.
D2 Xi'an / Wudangshan
Take train toWudangshan, enjoy the landscape of mountain en route. Arrive in Wudangshan at 5:30 pm. Meet with your guide there and transfer to hotel. 
D3 Wudangshan / Nanyan
In the morning take bus up the mountain, we will arrivein Nanyan scenic spot, where is the headquater of Wudangshan Daoism association. We will visit the beautiful temple, and we will also visit local Wushu school, meet with the teachers and prepare for our Qigong learning program.
D4__8 Wudangshan Qigong and Taiji Practice
We will use about 1 week to learn either Kungfu, Qigong or Taiji with local master. The program will be arranged in advance, from new learner to advanced learner, all can be arranged. And we will also hike up the summit of Mt Wudangshan to enjoy the beautiful nature.
D9 Wudangshan / Shiyan / Chengdu
Continue to learn the Qigong or Taiji in the morning. In the afternoon descend the mountain and take the night train to Chengdu or back Xi'an.  
CE-CT-10
Mt Emeishan Kungfu Learning Program
Ancient, mystical Emei Kungfu ( wushu ) has a 3,000-year history. Along with Shaolin and Wudang, it is one of China's three major Kungfu schools. Emei Kunfu originated on Emei Mountain in western China.
Emei wushu is famous not only for its gongli (efficacy), shenli (magic power), tiebi jingang (iron-arm vajra) boxing styles, but also for its more obscure schools of bozi (lame), xie (crab), niujiao (ox horn), zhuihun (pursuing soul) and qibu fangjiao (seven-step square foot) boxing. Emei wushu is acknowledged as more meticulous, flexible and delicate than any northern wushu school. It combines fists and palms, and alternates fingers and palms. Its postures and moves are also interchangeable.
Stunningly scenic, Emei is known for its Sea of Clouds, Buddha Lights, sunset glow and strangely shaped rocks. Since ancient times it has been a retreat for scholars and Taoist and Buddhist monks.
In this program, China Exploration will arrange you to the local Kungfu school to learn this magic skills.
Schedule:
D1 Chengdu City Tour
Arrive in Chengdu, do some city tours accordingly.
D2 Chengdu / Mt Emeishan
Go to Emeishan Wushu School with our guide, and we will arrange you to learn Kungfu with the master in school.
D3__8 Eeishan
Learning Kungfu with local master, who will teach you some basic skill of Emei Kungfu.
D9 Emeishan / Leshan / Chengdu  
In the morning your guide will pick-up you at school, and you will drive to Leshan to visit the Giant Buddha, and then drive back Chengdu. END.
CE-CT-11
Shaolin Kungfu Learning
Shaolin Wushu was named after Shaolin Temple for it originated from the Shaolin Temple. It is a main school of Chinese Martial Arts and also a treasure of great value in the Chinese Culture. It gathered all the skills from northern and southern martial M sects and fused all the essences of inner and external Gongfu and formed its own style.
It is profound, broad and pmetica1, and famous at home and abroad. A Chinese saying goes that all kinds of Kungfu come up from Shaolin and the Shadin Gongfu the best". Since reform and opening to the outside world, shaolin wushu has been spreading abroad and become a friendship link between the Chinese people and other peoples in the world.
Schedule:
D1: Luoayng
Arrival at Luoyang by air or by train. The guide picks you up from the train station or Luoyang Airport ; then you are going to visit Longmen Grottoes and the White Horse Temple by bus.      
D2 Luoyang / Shaolin temple
After breakfast, head for Shaolin temple, visit the temple, Pagoda Forest. Stay at Dengfeng's hotel or Kungfu Training school
D3__9 Dengfeng
The whole day for training Kungfu (in the morning 2 hours and in the afternoon 2 hours)
D10 Dengfeng Departure
After breakfast, pick-up you in temple and send you to next city as Xi'an, Beijing. END.
CE-CT-05
Taiji & Qigong Trip
Itinerary:
D1 Arrive in Beijing 
Arrive in Beijing in the late afternoon. Transfer to hotel .
D2 Beijing
We will drive to the Great Wall in Jinshanling section. We will make a short time's hiking on it, then return Beijing. Enjoy Beijing Roast Duck at dinner.
D3 Beijing / Luoyang
Visit the Forbidden Palace and Tianmen Square in the afternoon, then the Heaven Temple in the afternoon. Board the night train of K269 to Luoyang. Night in train.
D4 Luoyang 
Arrive in Luoyang in the morning. Setting down in the hotel firstly, then we will visit the magic Dragon Gate Grottoes, then the White Horse Temple, which is the first Buddhism temple in China. 
D5 Luoyang/ Chengjiagou village
Drive to Chenjiagou Village. Chenjiagou is the birthplace of Chen style Taiji, after that, Yang, Wu style also originated from here. We will meet with local master. 
D6 Chenjiagou Village
We will practice Taiji with local masters. And free explore the village.   
D7 Chenjiagou village / Shaolin
Drive to Shaolinsi temple in the morning. Visit local Wushu school.
D8 Shaolin /Zhenzhou / Chengdu 
After saying goodbye to local monks, we will drive to Zhenzhou, and fly to Chengdu in the afternoon.
D9 Chengdu  /Mt Qingcheng
In the morning we will visit Panda Breeding Research Base, in which we will see a quite a lot of living pandas.. Then we will head for Mt Qingcheng. Hike up to the Heaven Master Cave. Enjoy Daoism banquet in the Heaven Master's cave. Communicate with local Daoist in the evening.
D10 Mt Qingcheng
Qingcheng Taiji, also called Xuanmen Taiji is a very good way for keeping fit. The Qigong master, Mr Liu has gained his fame worldwide. We will visit his Taiji school, and communicate with him. Enjoy a tea ceremony in the evening.
D11 Mt Qingcheng /Chengdu 
In the morning we will continue to hike up to the summit of the mountain,  and we will freely communicate with local daoist , ( possibly the nuns in the mountain ) . Descend the mountain by cable car and head back Chengdu.
D12 Chengdu / Shanghai
Fly back to Shanghai in the morning. As the Pearl of China, you can visit beautiful Yuguan Garden, then enjoy the cruise of Bund in the evening
D13 Departure
Bid Fare ware to China, and fly back to your warm home.

see chinese kungfu