Our China culture tours focus on reserving the diverse and unique culture of China.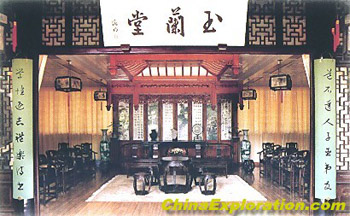 As an ancient civilization over 5,000 years' history with 56 ethnic nationalities, China has rich resources in custom, folklore, arts, religion, building, cuisine, science, etc. And Chinese Kungfu, Taiji, Daoism, Cuisine, Tea, Silk, traditional Chinese medicine ( TMC ) have been learned and welcomed by people in America and Europe, more and more Confucius institute is open worldwide...
As the leading specialty tour operator, China Exploration is always aiming to build up a folk friendship bridge between China and world. China Exploration has organized many travelers of America, Europe, Australia and Asia to make some cultural exploration during the 10 years' development. With our help, they have communicated or learned with Chinese culture in different fields. Their activities included folklore festival travel, Kungfu and Taiji learning, religious pilgrimage, cultural communication, TMC, Cuisine learning, etc.
We are doing more in this field. You can give us your need in any specific fields, and we will plan for you, contact with the concerning Chinese departments or organization and arrange your trip successfully. We are looking forward to meet you in China.
Part of our impressive trips in the past:
1. China Daoism & Qigong Exploration Trip( Group from American Daoism Association in 2001 )
Route: Beijing / Qingdao / Wudangshan / Qingchengshan / Huangshan / Shanghai
2. Qigong Exploration Trip ( Dr. Seth and his 12 students from America in 2002 )
Route: Beijing / Qingdao / Wudangshan / Qingchengshan / Shanghai
3. Taiji Learning Trip( 23 students from Australia in 2004 )
Route: Beijing / Chengjiagou / Qingchengshan / Shanghai
4. Traditional China Medicine Learning in Chengdu ( 8 American in 2005 )
Route: Beijing / Chengdu / Tibet / Chengdu
5. Kungfu Learning Trip( 2 American in 2006 )
Route: Chengdu / Emeishan / Qingchengshan / Chengdu
6.Tibetan Horse Riding Festival ( 6 Spanish in 2007 )
Route: Chengdu / Litang / Lijiang / Kunming
7. Qinghai Monlam festival ( 4 Italian in 2009 )
Route: Xining / Tongren / Xining
8. Buddhism Learning Exploration( 20 Dutch in 2009 )
Route: Beijing / Tanzhe temple / Beijing
9. Family Cooking Learning Tour ( 1 English in 2009 )
Route: Chengdu
Culture & Folklore
Total 1Page16Article record