Tibet is forever remaining attraction to the traveler worldwide. In this vast land, snow mountains waving endless, grassland enrolling to the edge of sky, sky blue as water washed, yaks feeding calmly, monasteries scattered in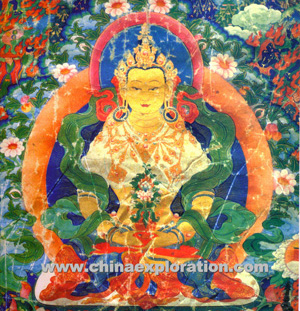 mountain and grassland, Tibetan grinning to visitor .It is the last land of unpolluted and purity, and it is also the idea please for heart purification, religious pilgrimage and close nature touching.
There are many ways to Tibet from the inner land of China. Chengdu is the most important transportation hub. In Chengdu more than 10 planes take off to Lhasa every day; one train starts to Lhasa every two days and a new route of 24 hrs reach is under construction; the earliest high way drive to Lhasa in 1950s. Besides it, there are one flight and one train to Lhasa everyday from Beijing, Xi'an and Shanghai. And you can also head for Lhasa from Kathmandu both by plane and overland. All is convenient for you.
China Exploration has long history and rich experience in operating Tibet tours due to its advantage of headquarter geographically located in Chengdu. We have realized the Tibet dreams for many tourists in the world. They came to Tibet either for short time's city holiday or for long holiday of special purpose, such as religious pilgrimage, trekking, festival experience, overland sightseeing.
We understand this land more than others, and our guides are all familiar with this mysterious land and the people, some of are them are just native Tibetan, which made them no problem in communication with locals.
Just tell us your idea, we will tailor-made for your holiday! Welcome to Tibet!