D1 Arrive in Chengdu
Today you will arrive in Chengdu, Chengdu local tour guides will pick you up at the airport. You may feel tired after a long flight, so today there are no attractions to visit. We will send you directly to the hotel to rest and prepare for tomorrow's journey. If you are energetic, you can walk around yourself to discover the charms of the city.
D2 Chengdu - Huanglong - Jiuzhaigou ( Breakfast, Lunch, Dinner )
Your tour starts by visiting Jiuzhaigou valley, after 50 minutes' flight you will arrive in the Jiuzhaigou and Huanglong airport. After that
your tour guide will take you to
Huanglong National Park
directly, which is about 40 minutes' driving in mountain road from airport to Huanglong. You will take cable car up the mountain of 3558 meters, and then hiking down the mountain of 3070 meters of sea level in 2 hours. Just enjoy the beautiful alphine mountain forest and collorful calcified lakes en route. And eventually you will arrive at the Wucaichi Lake.
In the late afternoon you will head for
Zhangza town
close to
Jiuzhaigou valley
in about 2 hour's driving, mountains and Tibetan villages will be the view accompanying you. And have a good sleep in hotel today.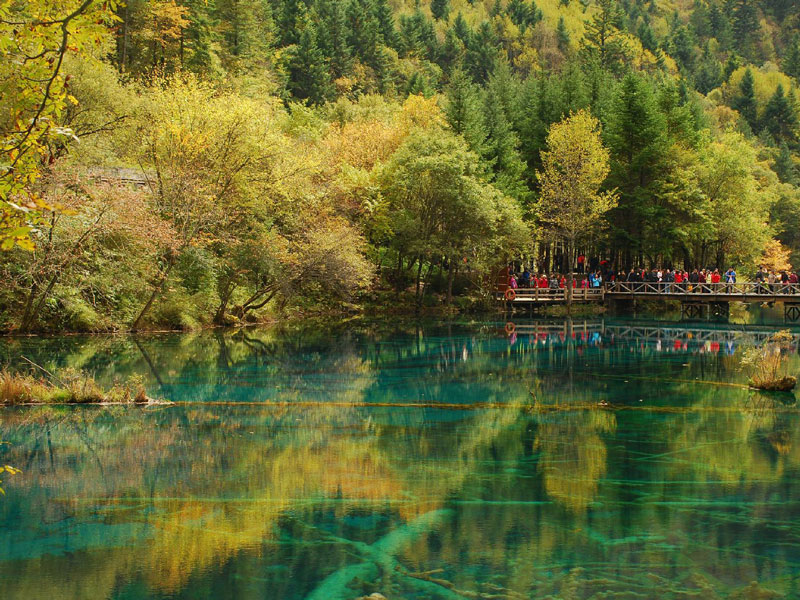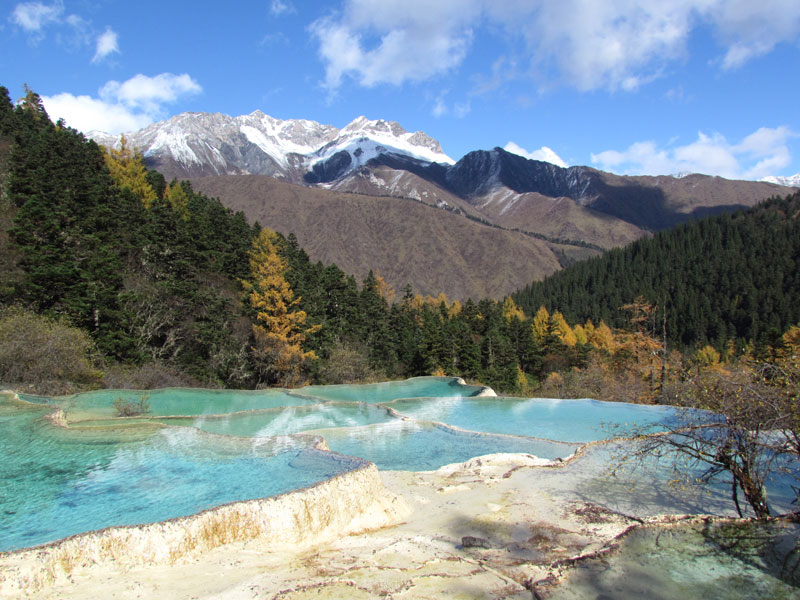 D3 Jiuzhaigou Excursion ( Breakfast, Lunch, Dinner )
Get up in the early morning today, and then go to the gate of Jiuzhaigou National park with your guide.The Y-shaped Jiuzhaigou valley actually is consisted of 3 long valleys: Shuzheng valley, Rize valley and Zezha valley. In each of the valley, many beautiful lakes, waterfalls, rivers and virgin forest are scattered. Local Tibetan granted each of them romandic names, such as Panda Sea, Pearl Sea, Long Sea, etc, and these lakes shining like jade, pearl in the mountain and forest. Jiuzhaiogou valley could be the best gift from our nature, and it deserves the fame of Fairy Land on the earth! You will travel the 3 valleys one by one with the sightseeing bus. In the late afternoon you will exit the valleys and return hotel for dinner.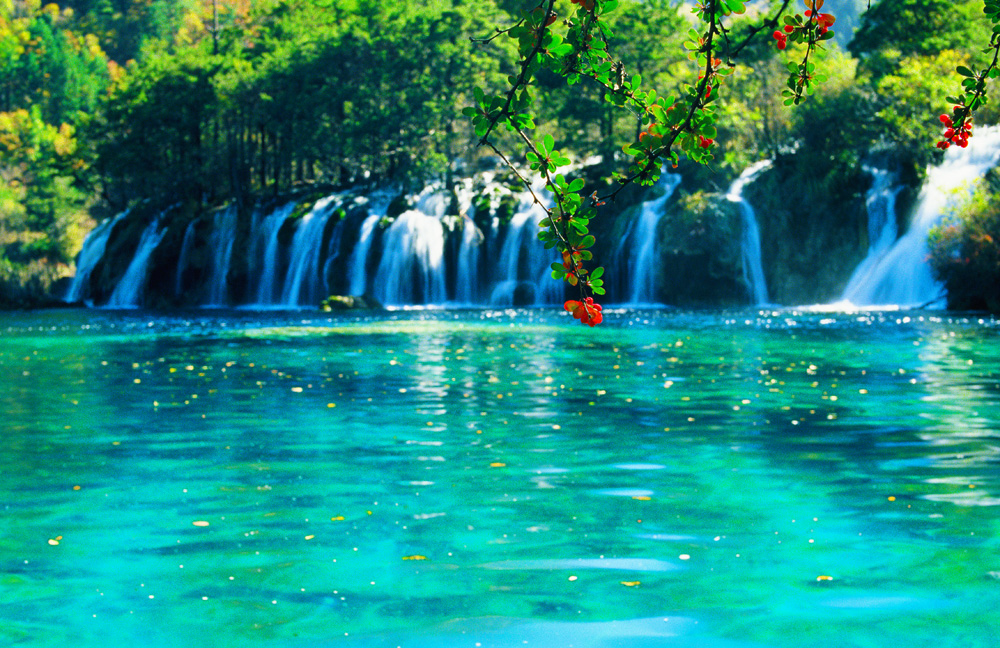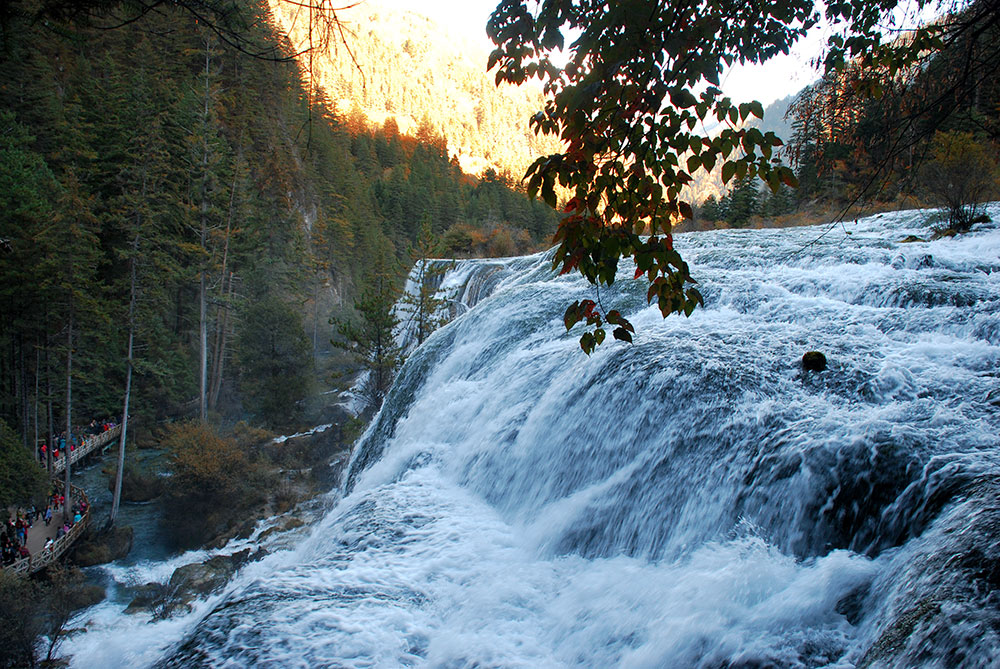 D4 Jiuzhaigou / Chengdu ( Breakfast, Lunch, Dinner )
After having breakfast in the hotel, your tour guide will send you to the airport. Then you will fly to Chengdu. In the afternoon we will arrange the city tours accordingly, such as the Wide and Narrow Alley, Bamboo Garden, also called Wangjiang Park, which was built 1000 years ago. In the evening, your tour guide will send you to the hotel in Chengdu.

D5 Chengdu / Giant Panda Garden / Leshan Giant Buddha / Emeishan ( Breakfast, Lunch, Dinner )
Today your tour destination will be the Giant Panda Breeding Research Base, where you can see the lovely pandas making various funny movement in eating and playing, also it is a good chance to take pictures for them. The most amazing is that you can also hold a panda in your arms to take picture by donating some money to the panda base.
And then we will head for Leshan Giant Buddha at noon. After lunch, your guide will show you the wonder of ' The mountain is a buddha , and the buddha is the size of a mountain ' at the other side of Minjiang river. And then you will make a mild hiking tour on Giant Buddha.
In the late afternoon, your guide will take you to Emeishan for night in half an hour's driving.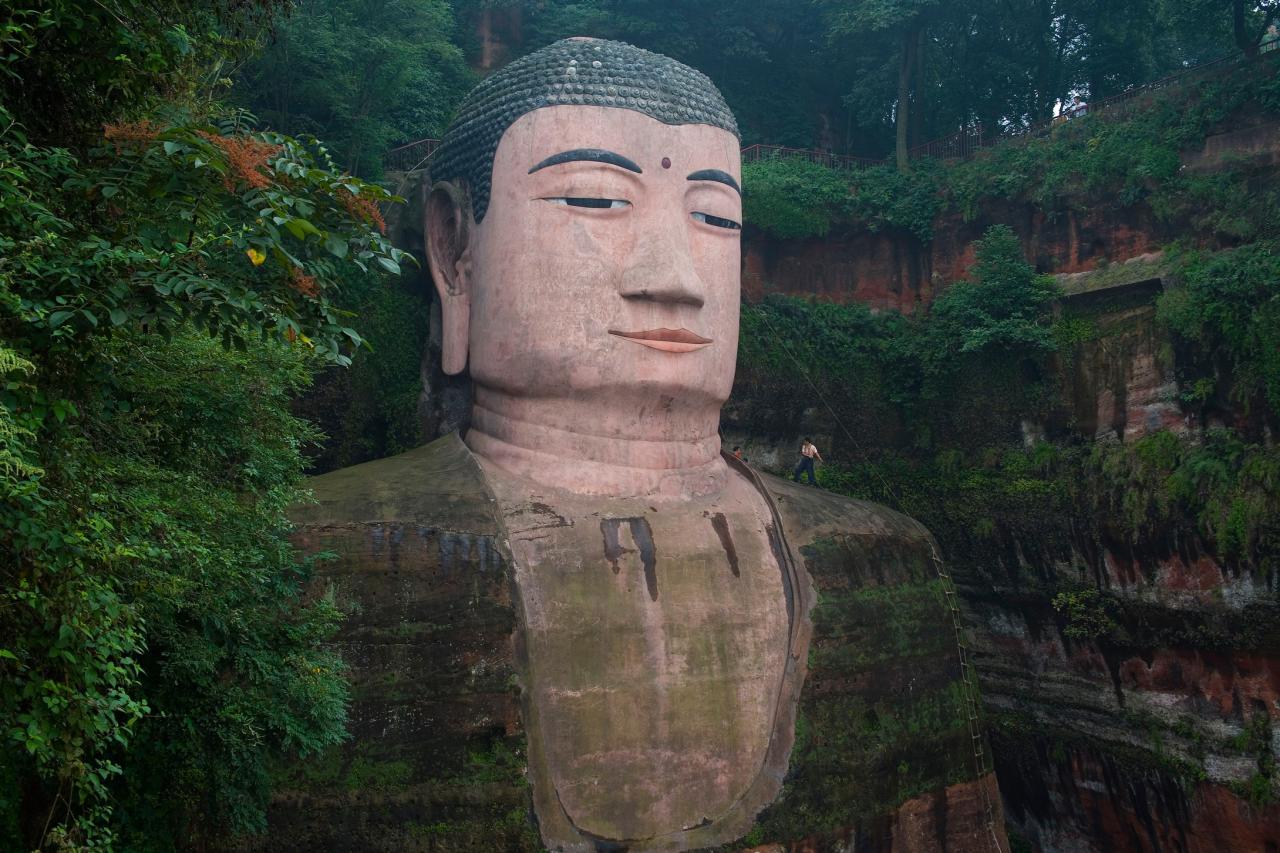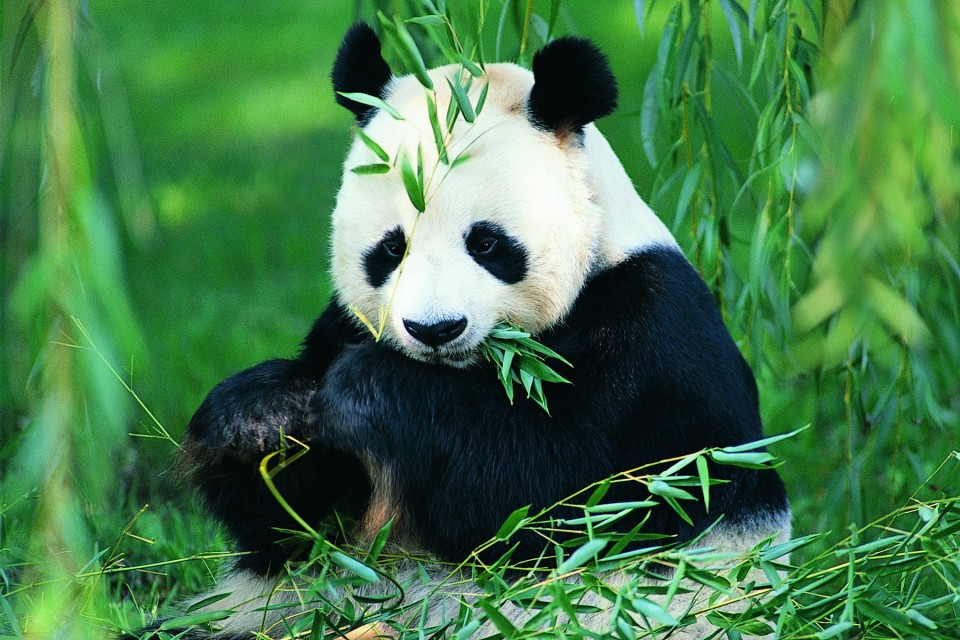 D6 Mt Emeishan Tour / Chengdu ( Breakfast, Lunch, Dinner )
In the early morning we will start the pilgrimage tour to Emeishan mountain with the help of local sightseeing bus and cable car. At noon we will arrive at Golden summit at the top of mountain. When sky is clear, you can overlook the Sichuan Basin, or even see the snow peak of Mt Gongka hundred miles away. And the huge golden Buddha Statue is looking into 10 directions by his 10 faces.
After lunch, you will descend the mountain and then return to Chengdu.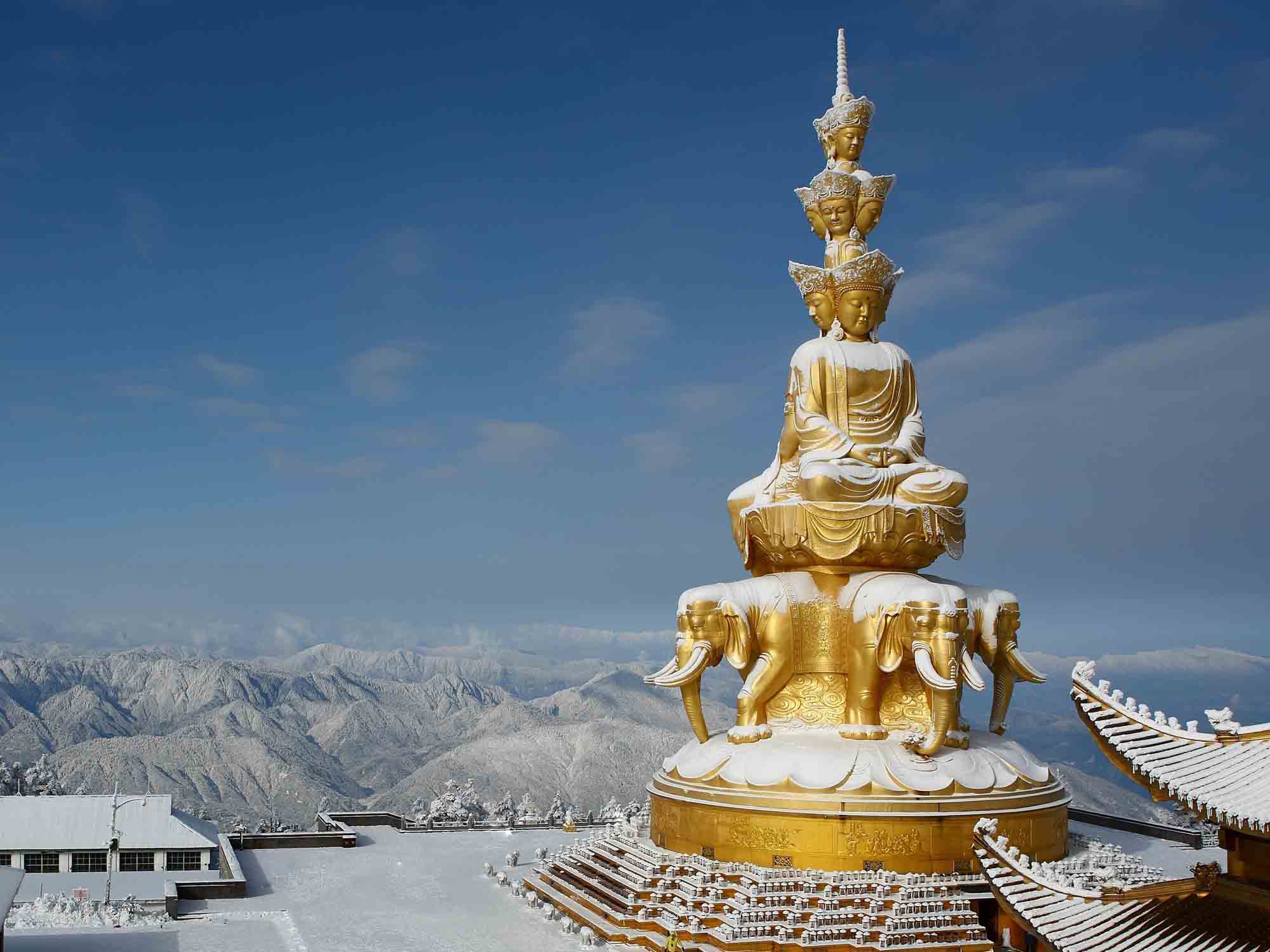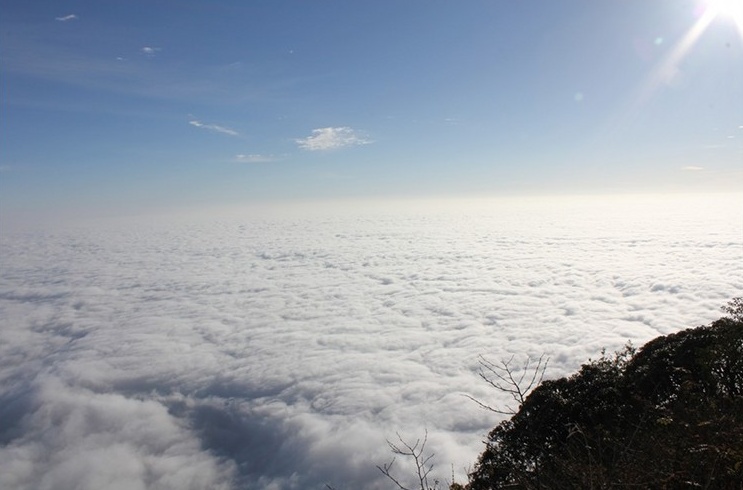 D7 Chengdu Departure ( Breakfast )
There are so many nice sites in Chengdu, but time flies so quickly and your tour in Chengdu is finished today. Your guide will send you to airport and you fly back home with sweet memory. Sincerly hope you can come back again. Wish you all the best.
Our prices included:
1. Round trip flights of Chengdu / Huanglong / Chengdu.
2. Entrance ticket. Our price have included the entrance tickets as schedule listed.
3. One way cable car of Huanglong, the environment protection bus of Jiuzhaigou national park, round trip cable cars in Emeishan mountain.
4. Guide. An English speaking guide will be provided during the tour of Jiuzhaigou and Huanglong, also the airport transfer and tours in Chengdu and Emeishan.
5. Private car transfers during tour. It will be an air-conditioned vehicle.
6. Accommodation. We will provide 4 star hotels en route; every two people share one room.
7. Meals. Buffet breakfast in hotel, and Chinese style lunches and dinners in local restaurant as schedule listed.
8. Service Charge & Government Taxes.
9. Insurance. We provide a free insurance of accident and casualty for each traveler. The highest refund is RMB 300000.00. Detailed terms please view our contract with Ping An of China.
Our prices not included :
1. Tips for guides and drivers.
2. Any of the optional program recommended by the guide, such as Tibetan dancing show, Tibetan banquet.