CE-OL-05

As one of the largest branches of Tibetan,
Kham Tibetan
is famous for their generosity to friends, bravery in wars, and sincerity in Buddhism. They mainly lived in East Tibet Plateau with Snow Mountains and grassland surrounded, and Yangtze and Yellow River also originated or crossed from here.

Originally descended from Genghis Khan's powerful Mongolian troupe, ancient Qiang people and Tibetan, Kham Tibetan are typically different with other Tibetan in their clothing, behaviors, and culture. And in this wide and free land, each Buddhist school founded its soil and disciples. Monastery, monks, Buddhist printing school and Buddhism study institution all make here a land of holy.

China Exploration has long been expert in the overland tour: we know how to make self-drive overland in China ,how to enter china with a car,how to drive into china with permits, as well as how to get china driving license for foreigners.We will bring tourist to the remote and original reserved places and show you the authentic country side of this land.

Highlights: Tibetan Monastery / Snow Mountains / Yellow Rivers
Itinerary 1: Kham Kingdom overland from Chengdu to Xining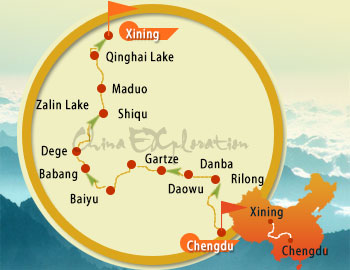 D1 Chengdu
Arrive in
Chengdu
. Prepare for our overland expedition.

D2 Chengdu / Rilong
Head for
Wolong
firstly, where we will visit
Giant Panda Nature Reserve
. Then we will climb over Mt Balang ( 4600m ) and arrive in Rilong town. We will drop a visit in the oriental Alps,
Siguniangshan Mountain
.

D3 Rilong / Danba / Daowu
Drive to
Danba
in the morning, visit the castle of Wori Tusi ( local Tibetan king), then the tower castles of Suopo village. Continue to Daowu via Mt Yala. And we will also visit Huiyun Monastery in Bamei.

D4 Daowu / Garze
All the day drive to
Garze
, enjoy the beautiful plateau and Tibetan house en route.

D5 Garze / Baiyu
Visit the Garze monastery ( Gelu section), then drive to Baiyu. And also visit the
Baiyu monastery
(Ninma section).

D6 Baiyu / Babang
Drive to Babang in the morning, but we will visit Babang village, where the
Babang Monastery
is well known in Tibet. And the Gartok Monastery in Hepo village is also worth of visit.

D7 Babang / Dege
In the morning drive to Dege county, visit the
Buddhism Scripture Printing school
. Then the Dege Monastery.

D8 Dege / Shiqu
Drive across the Quer Mountain then arrive in Manigange, then head for Zuqin Monastery. In the afternoon, continue to Shiqu town.

D9 Shiqu / Yushu/ Maduo
Today we will head for Maduo, but we will explore the Mani wall in the wide grassland of Shiqu. Arrive in
Yushu
in the late afternoon.

D10 Maduo/ Zalin Lake
Today we will head for the origin lake of Yellow River, Zalin lake and Elin Lake.

D11 Maduo /Gonghe / Qinghai Lake
Drive to
Qinghai Lake
in the morning. Relax us in the beautiful lake in the afternoon.