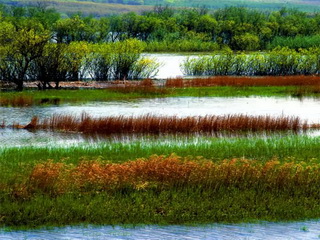 Sanjiang wetland Nature Reserve in Heilongjiang, Songhua, Ussuri River confluence, because the long-term tectonic subsidence and the Three Parallel Rivers of sediment accumulation, the formation of the low-lying flat plain.
Lie in the central plains of Wandashan pulse will be divided into north and south of two parts: the northern part of the low marsh plain, an area of more than 40,000 square km, that is, a narrow river plains, or part in Sanjiang Plain; south Ussuri River and its tributaries and xingkai the formation of a common lake alluvial plain lacustrine swamp area of 8800 square kilometers, also known as Muling a xingkai plain.
Hejiang plain surrounded by mountains, west Xiaoxing'anling offshoot blue Montenegro, south of Wandashan offshoot watershed Kong, the East for the main vein that Dan Hada Wandashan Ridge.
Sanjiang wetland Nature Reserve, a vast low-lying topography, precipitation, moisture concentration of the cold summer and autumn, Hou, runoff is slow, peak burst rivers, as well as the seasonal freezing and thawing of the sticky heavy soil, to promote long-term surface too wet, too much water, forming a large area swamp water and marsh vegetation, soil, constitute a unique landscape of the swamp.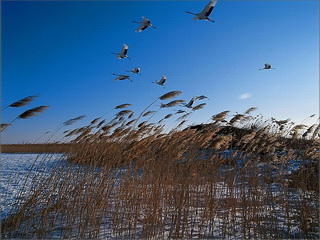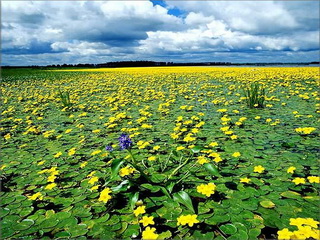 Marsh and swamp land area of about 240 million hectares, is China's largest distribution area of the marsh. Wet students and marsh plants are mainly angustifolia, marsh willow, moss and other grasses and reeds. Carex marshes of which the most widely distributed, accounting for 85% of the total area of marsh around, followed by reed swamp. Soil types are mainly black, white slurry soil, meadow soil, swamp soil, etc., but in order to meadow marsh soil and the soil most widely distributed.
Sanjiang Plain are known for their "Great Northern Wilderness," known for a large-scale reclamation in 50 years ago, meadow, marsh boundless, there are into the forest and wildlife variety. Reclaimed after the construction of many large state-owned farms, "the Great Northern Wilderness" has become a "warehouse of Beijing University," has become an important national commodity grain base.
In the meantime, the ecological balance in this area has been a certain degree of damage, weather conditions deteriorate, as droughts and floods increase, increased wind damage, serious soil erosion, reduction of rare animals and plants.
In the future should be the rational use of natural resources, the promotion of agriculture, forestry, animal husbandry, and fisheries all-round development in order to water logging prevention mainly floods and droughts Kaneharu, improving irrigation and water conservancy construction and the establishment of marsh landscape and rare birds, rare species nature reserve.
Related Tours: