Day 1 Chengdu - Luocheng Old Town - Leshan Giant Buddha - Emei (L+D)
Your Chengdu tour starts in the early morning today, the guide from China Exploration will take you to Luocheng Old Town in about 2 hours on the express way. You will enjoy the wide Sichuan plain en route.
Luocheng Old Street still remains in its original state of less tourist due to its out of beaten track. Although Luocheng is a very small street, it is impressive to watch local old people chatting and playing Chinese bridge card in the old style tea house with satisfaction to their simple life. Also you will enjoy the authentic countryside.
After tour in Luocheng, you will continue half an hour's driving to Leshan. You will eat traditional Chinese food for you lunch at local restaurant.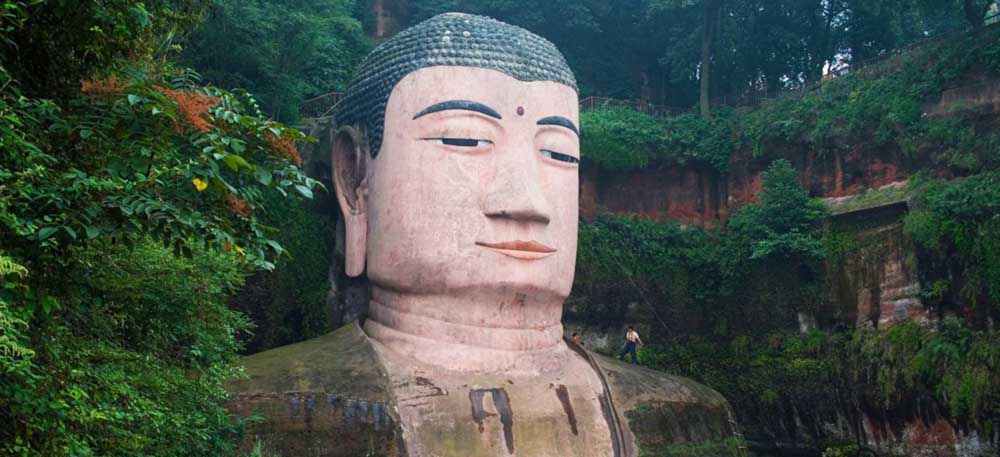 In the afternoon, you will enjoy the wonder of ' Buddha is the hill and the hill is a Buddha ' at the other side of Minjiang river. And then you will walk up the Giant Buddha. You will visit Linyun temple firstly, and then walk down the zigzagging trail in the left side of Buddha. The Buddha is a small mountain, from its head to shoulder, and from leg to foot, about 30 minutes hiking. And then you need to hike up from its right side again. It is also a good place to view Leshan city cross the joint of Minjiang River, Dadu River and Qingyi River. And then you will walk about 30 minutes to Wuyou temple, where you can enjoy the statue of 500 Arhats.
In the late afternoon, your guide will take you to Emeishan for night in half an hour's driving. You will stay one night at the foot of beautiful Mt. Emeishan, also a Chinese style dinner will be arranged in hotel. And the hot spring of Emeishan is famous here, so we'd like to suggest you buying yourself a Hotspring bath as prize of today's tour.

Day 2 Emei Mountain - Chengdu (B+L)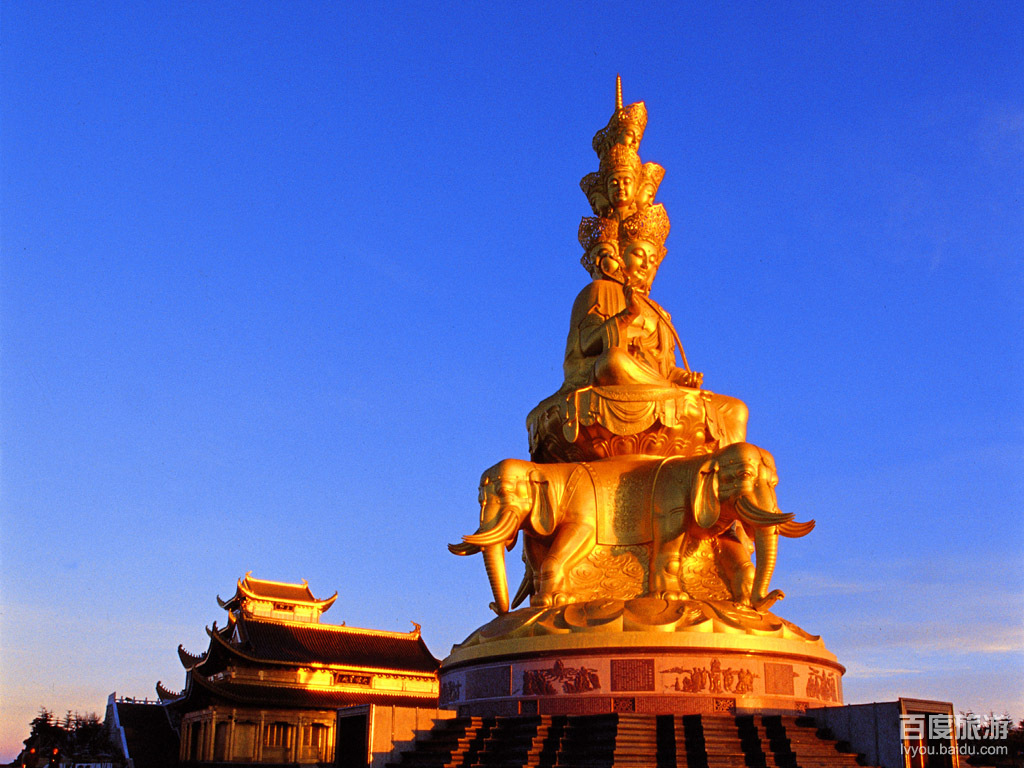 After a good sleeping, get up in the early morning, and then your pilgrimage tour to Emeishan mountain starts. You will firstly take local environment bus to the Golden summit of mountain. It is a beautiful but huge mountain, taking more than 1 hour's driving to the parking ground of Leidongping. After you get off the bus, you will continue walking about 30 minutes to the start of cable car. It is a mountain trail, and you may encounter some monkeys begging food in the mountain trail. And after 30 minute's cable car, you will arrive at the top of Emeishan mountain. When sky is clear, you can overlook the Sichuan Basin, or even see the snow peak of Mt Gongka hundreds miles away. And the huge golden Buddha Statue is looking into 10 directions by his 10 faces.
After lunch, you will take cable car and environment bus back the foot of the mountain, and then walk to Tiger Subduing Temple, also called Fuhu temple at the foot of mountain. It is a beautiful temples of nuns, exquisite, ancient , and less tourist tracking.
In the late afternoon your guide will take you back Chengdu. It is 2 hours' driving again, just enough for you to have a short time's nap in your car. Yes, it is a bit tired after one day's mountain tour. Your guide will send you back hotel, and your Chengdu tour will be finished with sweet memory.
1. Entrance tickets as list in the itinerary
2. Guide. An English speaking guide will be provided, who will accompany you from the start of tour to end of tour.
3. Private Transfers during tour. Our guide and driver will pick-up you at your hotel on time and drop-off you after the tours. And an air-conditioned vehicle will be provided during the tour.
4. Meal. Three typical Chinese lunch will be arranged accordingly at local restaurant or hotel. During the meal, a glass of soft drink will be provided.
5. Hotel. We provide one night's hotel in Emeishan, every two people share one room, for group size of one, he will has a private room.
6. Service Charge & Government Taxes.
7. Insurance. We provide a free insurance of accident and casualty for each traveler. The highest refund is RMB 300000.00. Detailed terms please view our contract with Ping An of China.
Our prices not included :
1. The cruise of Leshan. If you want to take cruise to enjoy the Buddha in its front side, you need to pay extra $12.00/p.p.
2. Tips to the guide and driver.
If you require, we can book hotels in Chengdu, and make private airport and city tour necessary.

Are you interested in this itinerary? Send us a message and let us help you plan and book your China vacation based on this sample. Response within 24 hours. Contact our Travel Consultant.

0086-28-86270775
Working hours:
9:00AM-6:00PM(GMT+8)
info@chinaexploration.com
sales@chinaexploration.com