D1 Chengdu / Rilong / Danba
(Drive about 340km, 7Hrs)
Your Chengdu tour starts in the early morning today, the guide from China Exploration will take you to
Danba
all the day. It is 340 kms' mountain road, you will cross either Mt. Jiajinshan of 4000 ms or Mt. Balangshan of 5040 ms. Which route to take depend on the road condition. But for us, we prefer route of Mt. Balangshan, there is
a Chinese saying The Boundless vista is at the perilous peak. In this tour, tourist can enjoy the cloud sea and more snow peaks, also in the other side of Mt. Balangshan is paradise of giant panda,
Wolong Nature Reserve
.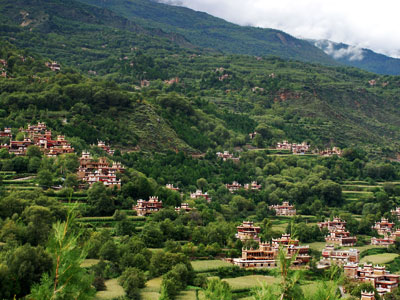 And at the mountain pass of Mt. Balang, you have chance to enjoy the beautiful peaks of
Siguniangshan
. Mt. Siguniangshan got its name from the 4 snow peaks of 6250ms, 5355m, 5279ms, 5025ms, means 4 girls mountain. It is the paradise for mountain climbing actually, freshman can start from the lowest, and veteran can challenge 6250ms.
Arrive in
Danba
in the late afternoon, and your guide will take you directly to
Jiaju Tibetan village
in the mountain. And you will make a home stay in local Tibetan family guest house. And China Exploration would like to invite you try dinner of Tibetan food tonight!
D2 Danba / Tagong / Xinduqiao
(Drive about 150km, 3.5Hrs)
Get up in the early morning to breathe the clean air of mountain, and walk around in the village. It's widely spread that the girls of Danba are the most beautiful in Tibetan area, and local villagers also have the folklore of holding beauty contest every year, try your chance!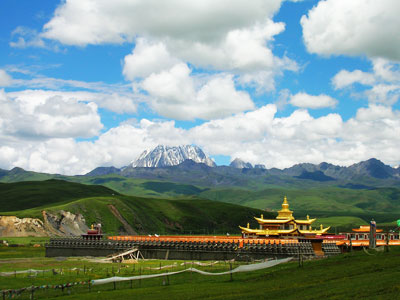 Tibetan in Danba care very much about the beauty of their houses, so their houses are normally built in good location, beautifully decorated outside and inside. Their composed a beautiful picture together with the mountain, fields and plants around them. And Jiaju village is the most beautiful in Danba, so China Exploration will take you up the best point to watch the village and mountain.
After tour of Jiaju village, your guide will take you to
Suopo Tower house
. In ancient time, wars were frequently broken between villages, so clever Tibetan created tower house to protect themselves. It still remains as mystery how local people built such high towers without modern tools! And today a lot of towers are well reserved in Danba, and best place is Sopo village.
In the afternoon you will continue your tour to
Xinduqiao
. In this tour, you can not miss Huiyuan Monastery for sure. It is a small monastery just a few miles off the main road, but it has high position in Tibet. The 7th Dalai Lame used to take refuge here due to invasion of Mongolian to Lhasa in 1728, and the 11th Dalai Lama was also born here in 1838.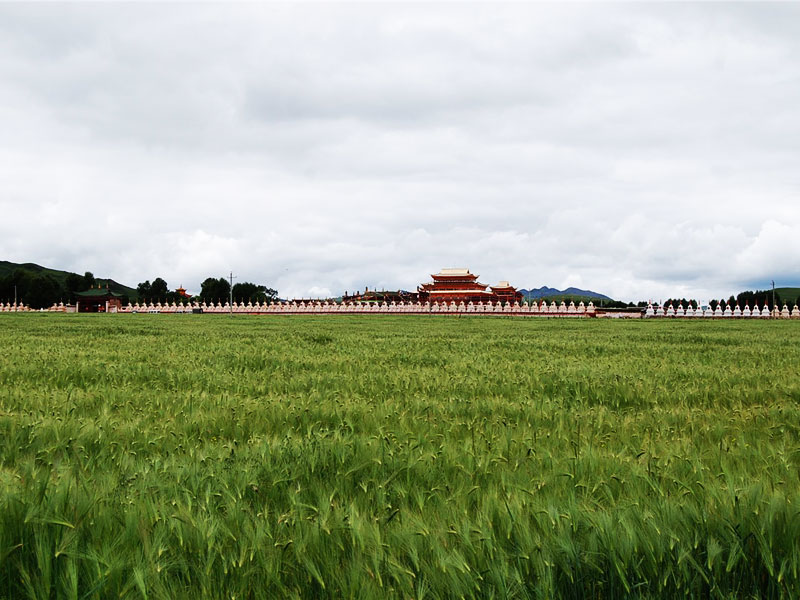 Xinduqiao
village has won its fame of Paradise Photograph for long time. Tibetan Herdsman, Stone Tibetan houses, villages, wooden bridge, white poplar forest, hills, clean brooks, all built a picture of harmony.
And
Tagong
is another Tibetan town 30 kms away from it. Wide Tagong Grassland, huge
Tagong Monastery
, and Snow peak of Mt. Yala, will show us another beautiful side of Tibetan plateau. If you like, you can even rent horse from local Tibetan and make short time's riding on the grassland!
Your tours stop in Xinduqiao today, and you will stay in local small hotel for a quiet night.
D3 Xinduqiao / Yajiang / Litang / Daocheng / Shangrila Village
(Drive about 420km, 8Hrs)
Your tour today will be continued in the beautiful picture of Tibetan plateau today. It is 433 kms from Xinduqiao to Shangrila Village on mountain road of Tibetan plateau. In this route, Yaks, Tibetan Herdsman, monastery, snow peaks, can be seen everywhere. And it is also great challenge for your health, because you will pass by a few mountains pass around 4500 meters in sea level, such as Gaorsi mountain pass, Jianziwan, Kalazi, etc. But don't worry too much, if you feel sick, just stay in your car!
Litang is boasting the Highest Town because of its sea level of 4014 meters. And it is important religious city in Tibetan plateau, Choekhorling Monastery, or we say
Litang Monastery
, is the largest monastery in South Kham area. The huge monastery was built along the mountain, which made it extremely spectacle in view. And Litang is also the birth place of 7th Dalai Lama, the incarnation of 6th Dalai Lama Tsangyang Gyatso. As a poet of living Buddha, Tsangyang Gyatso loved Litang very much. By the way, the horse racing festival of Litang in August is regarded as the TOP 3 horse festivals in Tibetan plateau.
In the afternoon you will arrive in
Shangrila
village, also called Riwa village. It is strange that our tours overcome one by one snow mountain and eventually we arrived at warm village of low level.
D4 Shangrila Village / Yading National Park / Daocheng
(Drive about 85km, 1.5Hrs)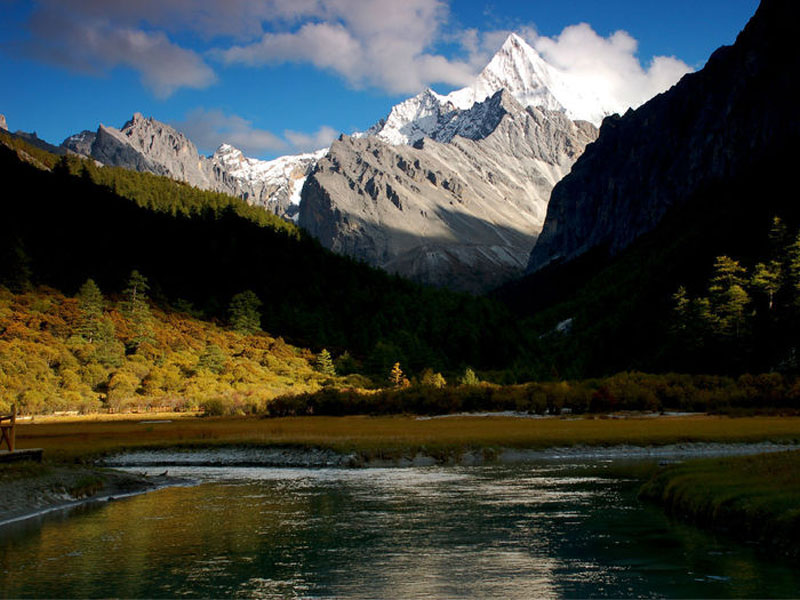 After 30 kms mountain road up the mountain, you will arrive in Yading National Park. Just before your arrival in Yading village, the 3 peaks of Yading already rose from the green forest and trust into the blue sky like three Gods sitting in the sky, just Kneel down!
With the help of sightseeing car, tour in
Yading
is much easier now, just 30 minutes, you can reach Lorong Yak Farm, where you can closely admire the peak of Yambeyong. And if your physical condition support, you can start a hiking tour to the two beautiful lakes, Milk Lake and Pearl Lake. They are two small lakes lying at the foot of snow peak, and they are seat to be tears of God.
Descend the mountain in the afternoon and return
Daocheng
city, the beautiful Tibetan villages and houses will company you in this 3 hours' driving tour. en route. Arrive in
Daocheng
in the late afternoon, and then you can have a free walk in this quiet town.
D5 Daocheng / Litang / Yajiang / Kangding
(Drive about 420km, 8Hrs)
It is a long tour overland today, but the beautiful landscape of Tibet remains endless charm to tourist. In the late afternoon arrive in
Kangding
, the capital city of Ganzi Tibetan prefecture, only 2560 meters in sea level.Free to walk around in this Tibetan town in the late afternoon. Kangding is also known for the folk song of Kangding Love Song.
D6 Kangding / Luding / Chengdu
(Drive about 300km, 5.5Hrs)
It is an overland tours again, 380kms for about 7 hours' driving, half on express way and half mountain road on No 318 state highway. The landscape will change from mountain area to wide plain gradually. In the route you will travel through Mt Erlangshan, which used to be the First dangerous gate to Tibet, but now tunnel makes trip much easier, just a few minutes you will cross the mountain.
You will also drop a tour at
Luding Bridge
, which has played key role in the early history of Chinese communist party. If they were stopped by the bridge, they would facing the danger of perished by Chiang Kai-shek army, but God helped them, and the brave heroes crossed the bridge naked with only chains after fierce battle !
In the late afternoon you will arrive in Chengdu, and then your guide will send you to hotel, and your tour of Chengdu finished today with sweet memory.
Our prices included :
1. Entrance tickets: The tickets of all the scenic spots listed above.
2. Guide. An English speaking guide will be provided, who will accompany you from the start of tour to end of tour.
3. Private Transfers during tour. Our guide and driver will pick-up you at your hotel on time and drop-off you after the tours. And an air-conditioned vehicle will be provided during the tour.
4.Hotel. Provide 5 nights' hotel, three nights' 3-4 star level hotels in Riwa, Daocheng and Kangding, one night in the home guest house of Jiaju village. Every two people share one room.
5. Service Charge & Government Taxes.
6. Insurance. We provide a free insurance of accident and casualty for each traveler. The highest refund is RMB 300000.00. Detailed terms please view our contract with Ping An of China.
Our prices not included :
1. Your hotel in Chengdu.
2. Your meals are not included, but your guide will give you good suggestions during the whole trip.
3. The entrance ticket of Siguniangshan, you will not enter it.
4. Tip to guide and driver.
5. Any other costs that not listed.
If you require, we can book hotels in Chengdu, and make private airport and city tour necessary.
Are you interested in this itinerary? Send us a message and let us help you plan and book your China vacation based on this sample. Response within 24 hours. Contact our Travel Consultant.
Phone:
0086-28-86270775
Working hours:
9:00AM-6:00PM(GMT+8)
Email:
info@chinaexploration.com
sales@chinaexploration.com