1. Yingkou
When winter comes, nothing is more relaxing than a hot spring bath. For thousands of years, natural mineral-rich hot spring baths have also been used to relieve health ailments. The water found in natural hot springs contains a variety of different minerals, and the most common one is sulfur. It has a "rotten egg" smell but is excellent for skin. The sulfur-containing water might be just what the doctor ordered when it comes to relieving pain, stress, itchy skin, arthritis and more. Hot springs resorts are thriving as biting cold winter arrives. Here we take a look at some of the best natural hot springs China has to offer.
2. Tengchong
People enjoy the hot spring at Rehai park in Tengchong of Southwest China's Yunnan province. Tengchong has a stunning volcanic landscape that includes natural volcanoes, hot springs, and volcanic lakes. The county itself lies on the lava lands of Leifeng Mountain. More than 80 steam springs, hot springs and heat springs have been found in Tengchong.
3. Mount Huangshan
The natural hot spring water at Mount Huangshan is rich in minerals such as metasilicic acid, potassium and magnesium which are beneficial to human body. The low-acid water is at a temperature around 44 Celsius degrees.
4. Mount Changbai
People enjoy Julong hot spring at Northeast China's Changbai Mountain. It is said that the steam rising from water at some parts of Mount Changbai is hot enough to boil an egg.
5. Daqing
People enjoy hot springs on a snowy winter day in Daqing of Northeast China's Heilongjiang province. Daqing is also regarded as "the hometown of China's hot spring".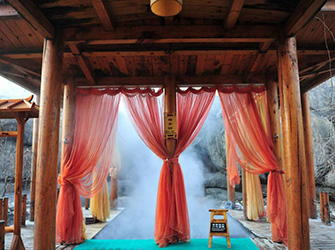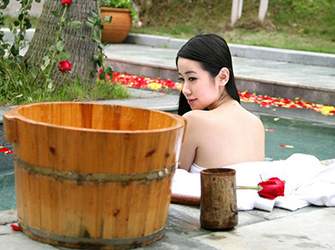 6. Ganzi
People enjoy hot springs at Moxi Ancient Town of Ganzi Tibetan autonomous prefecture in Southwest's China's Sichuan province, Oct 26, 2013. In the world of ice and snow, Ganzi has dozens of hot springs, exuding from the underground.
7. Lujiang
Visitors indulge themselves in the pleasure of bathing in a spa filled with flower petals in Lujiang county. Lujiang people love to go to hot springs, which are dotted all over the county.
8. Chongqing
A woman prepares herself for spa treatment at a scenic spa location in South Chongqing. The municipality is known as the "hot spring capital", and its abundant hot springs have a good reputation throughout the country. Chongqing has a very long history of developing hot springs, with the time honored South Hot Springs, North Hot Springs and East Hot Springs.
9. Wuyi
People relax at the Tangfeng outdoor forest spa pool at Wuyi county of East China's Zhejiang province, Nov 19, 2013. In Wuyi county, the hot springs can reach a discharge level of 10,000 tons per day with an even temperature from 42 to 45 degrees Celsius.
10. Suichuan
People enjoy hot spring at Tanghu town in Suichuan county of Jiangxi province, which is renowned for its natural hot springs.
Travelers can book the tour from China EXploration.
Article source: China Daily