D1 Chengdu / Huanglong / Jiuzhaigou ( Lunch, Dinner )
Your Chengdu tour starts from Chengdu today, the guide from China exploration will send you to Shuangliu airport, and then you will fly to Jiuzhaigou and Huanglong Airport, meet another guide there. It is a flight of 50 minutes only, but you will move from sea level 500 meters of Chengdu to 3448 meters of Huanglong airport, don't worry for it, most of the people can be acclimated very quickly, and if you do feel difficult, you can buy some oxygen to deal with.
Your tour guide will take you to
Huanglong Nation Park
directly, which is about 40 minutes' driving in mountain road from airport to Huanglong. Lunch will be arranged either at airport or foot of Huanglong mountain accordingly, depending on the arrival time. After the lunch, you will hike from the 3070 meter of gate to 3558 meters of Huanglong temple in 2 hours. Just enjoy the alphine mountain forest and collorful calcified lakes en route. And eventually we will arrive at the Wucaichi Lake.

And then you will descend the mountain in the late afternoon for about 1 hour's hiking, and then head for Zhangza town close to Jiuzhaigou valley. It is about 2 hour's driving, but you can enjoy the exotic view of Tibetan villages and nature en route if you are not tired enough for a nap in the car.
D2 Jiuzhaigou Excursion ( Breakfast, Lunch, Dinner )
Get up in the early morning today, and then go with your guide to the gate of
Jiuzhaigou National park
. And there you will exchange local environment protection bus to visit the long valleys.
The Y-shaped Jiuzhaigou valley actually are consisted of 3 long valleys: Shuzheng valley, Rize valley and Zezha valley. In each of the valley, many beautiful lakes, waterfalls, rivers and virgin forest are scattered. Local Tibetan granted each of them romantic names, such as Panda Sea, Pearl Sea, Long Sea, etc, and these lakes shining like jade, pearl in the mountain and forest. Jiuzhaigou valley could be the best gift from our nature, and it deserves the fame of Fairy Land on the earth!
China Exploration always wanted to introduce unique local culture to our clients, besides beautiful nature, there are also nine Tibet villages, which Jiuzhaigou got its name from it, your guide will give you a lecture of Tibetan culture too when visit these villages.
Just follow your guide to visit the 3 valleys one by one, enjoying the interesting tales about the villages and lakes. And a simple buffet lunch will be arranged in Lorilang restaurant.
In the late afternoon you will exit the valleys and return hotel for dinner.

D3 Jiuzhaigou / Ruoergai Grassland / Tangke Yellow River ( Breakfast, Lunch, Dinner )

It will be an overland tour today, your guide will take you up the Tibetan plateau of
Ruoergai grassland
. You will visit Flower Lake firstly in the morning. It is a large wet land with a beautiful lake, a lot of wild birds and flowers find their paradise here.
The flat and wide Ruoergai grassland covered the earth and is looked like a green carpet under the blue sky, and the back paved highway crossed on the carpet and is leading us to the end of sky. Tibetan villages and yaks add much vitality on this carpet. Please get away from all of the worries when you are traveling in such beautiful land!
And your tour will stop at Tangke village today in the afternoon. Tangke village is just located at the beautiful bend of Yellow River, and won itselt the fame of the
First Bend of Yellow River
.
The water of Yellow River is very clean here, and the river is mirror like flat and slow. It bent gently here like moon, and the shining of sun light like stars in galaxy. Tibetan herdsman riding horses trekked along the river. China exploration will arrange a night here for you in order to experience the quietness of yellow river and grassland. We would like to let you handle the time yourself, you can sit on the grassland overlooking Yellow river and meditate, you can also practice your riding skill with local Tibetan, or take photo of the sun set.

D4 Tangke / Chuanzhusi / Chengdu ( Breakfast, Lunch )

It will be an unforgettable experience to watch the Sun rise in the grassland. So get up early today! And you will continue your tour in the grassland for a while, and then descend the plateau to airport in Chuanzhusi, and then fly back Chengdu in the afternoon. And your tour will be finished today.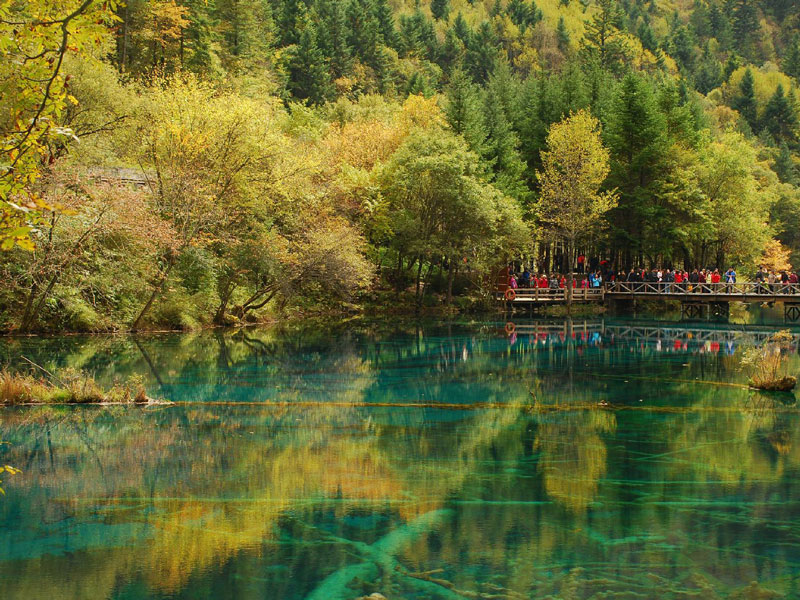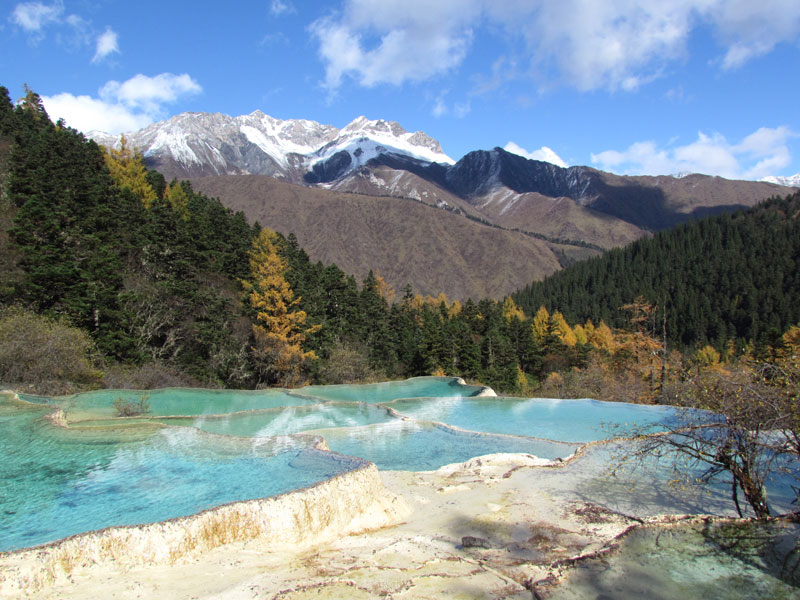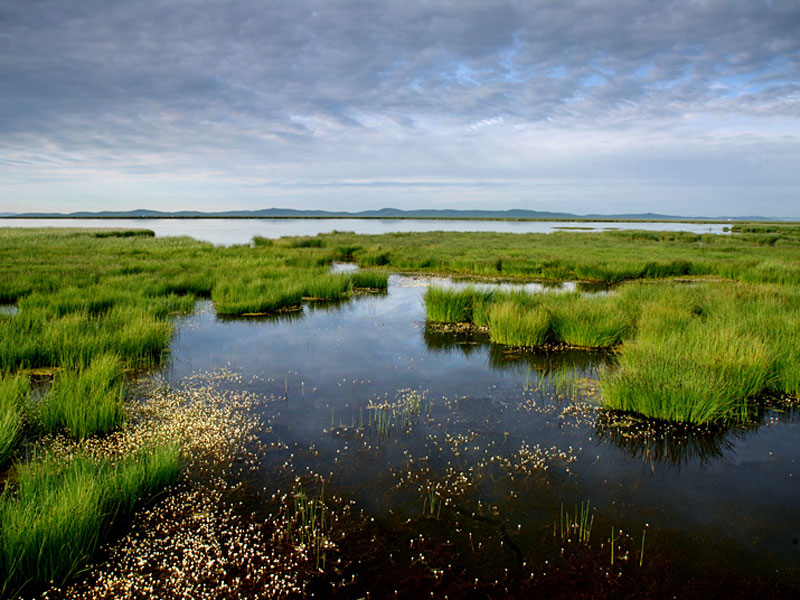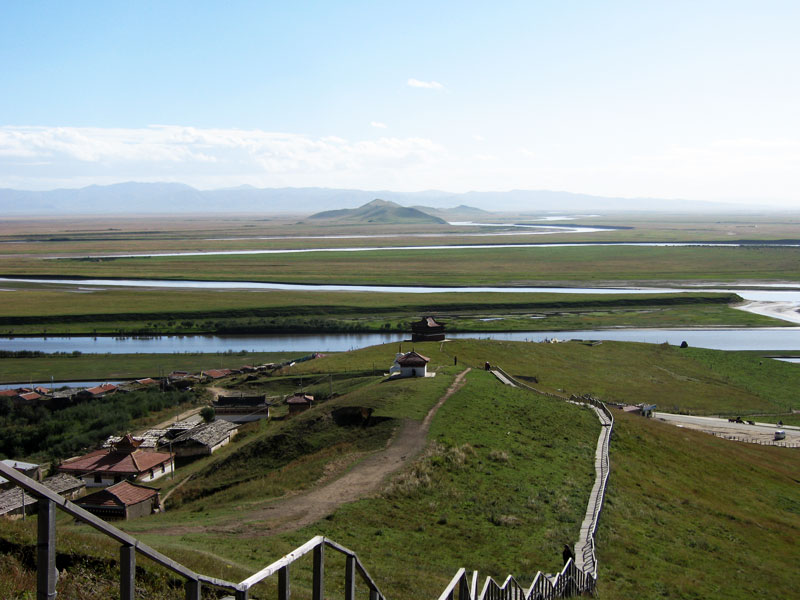 Our prices included:
1. Round trip flights of Chengdu / Huanglong / Chengdu.
2. Entrance ticket. Our price have included the entrance ticket of Huanglong, Jiuzhaigou national park, Flower Lake, Tangke.
3. The environment protection bus of Jiuzhaigou national park.
4. Guide. An English speaking guide will be provided during the tour of Jiuzhaigou and Huanglong, also the airport transfer service in Chengdu.
5. Private car transfers during tour and airport transfer in Chengdu and Jiuzhaigou. It will be an air-conditioned vehicle.
6. Meals as schedule listed. Seven typical Chinese meals, lunch or dinner, depend on the schedule arrangement.
7. Service Charge & Government Taxes.
8. Hotel. Provide 2 nights' 4 star hotel in Jiuzhaigou, and 1 night's guest house in Tangke, every two people share one room.
9. Insurance. We provide a free insurance of accident and casualty for each traveler. The highest refund is RMB 300000.00. Detailed terms please view our contract with Ping An of China.
Our prices not included :
1. Your hotel in Chengdu
2. The cable car of Huanglong. You are not obliged to take the cable car there. Hiking is the way of most tourist taking.
3. Any of the optional program, such as Tibetan dancing show, horse riding, Tibetan banquet.
If you require, we can book hotels in Chengdu, and make private airport and city tour necessary.
Are you interested in this itinerary? Send us a message and let us help you plan and book your China vacation based on this sample. Response within 24 hours. Contact our Travel Consultant.