D1 Jinsha Site Museum / Sichuan Museum / Dufu Cottage / Songxianqiao Market (Breakfast)

In the morning, your guide will pick you up in your hotel, and then leave for
Jinsha Site Museum
. You can not only feel the sacrifice ceremony of more than 3000 years before, but watch the process of archaeology from a close distance. The social activities, living environment of that time reappears, and the change of time shows clearly in front of you. Then we will head for the
Sichuan Museum
. There are 15 exhibition halls in Sichuan Museum, showing many categories of treasures and historical relics, including beautiful china, drawings and other Chinese stuffs.
After a Chinese lunch, we will explore
Dufu Thatched Cottage
in west city. From the beautiful garden and vivid sculpture of Dufu and his cottage, all will tell us the broad heart of great patriot—Mr. Dufu. At last you will go to visit the
Songxianqiao Market
. The categories of goods sold in the shops are relatively fixed. Some sell calligraphy and painting only, some are specialized in ancient doors, windows and furniture. There are also a few small shops selling Tibetan-style articles and traditional Miao nationality's clothes featuring rich nationalities' characteristics.
D2 Wuhou Temple / Jinli Street / Wangjiang Park / Chunxi Road

After breakfast in hotel, you guide and driver will send you to the
Wuhou Temple
. Tourists can not only enjoy the beauty of Chinese traditional architecture, but also look deep into the history and culture of the old China. Then we will transfer to the
Jinli Street
next to it, a place of Chinese tradition and shows beauty in the dusk. Strolling down the narrow street, you will find yourself surrounded by an old world; flagging, red lanterns, and wooden buildings, each one of them brings you a mood of different culture. Especially when night falls, light illuminates on the dim fog, and kinds of performance show up, another round of happiness comes close.
Then you will have a Chinese lunch, and go to visit the
Wangjiang Park
, also called Bamboo Garden. The greatest building in the Wangjiang Park is the Wangjianglou, called Chongli Pavilion, which is a four-floor structure 39 meters in height, with the two lower floors laid out on a square plan and the two upper floors assuming a pentagonal shape. The highlight of the park is also its forests boasting of 100 varieties of bamboo. You will be enthralled as you walk beside the yellow columns of bamboo; you can also hear the exquisite sound when the green leaves sway with the wind. After this, you will go to the city center,
Chunxi Road
, the most bustling walking street in Chengdu, where you can go shopping and find the old and modern Chengdu culture. At last you guide and driver will send you back to hotel.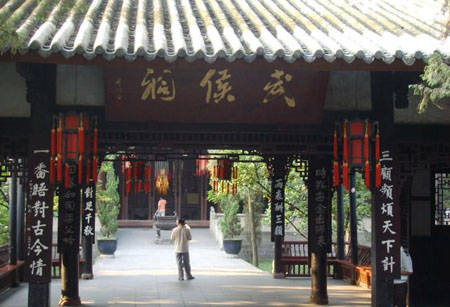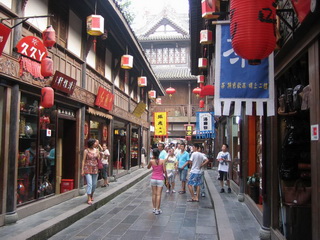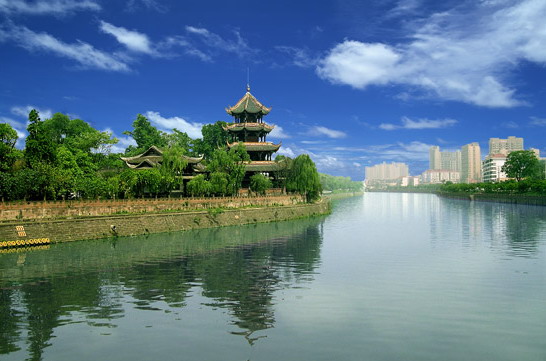 Our prices included:
1. Entrance tickets: Jinsha Site Museum, Dufu Cottage, Wuhou Temple and Wangjiang Park.
2. Guide. An English speaking guide will be provided, who will accompany you from the start of tour to end of tour.
3. Private Transfers during tour. Our guide and driver will pick-up you at your hotel on time and drop-off you after the tours. And an air-conditioned vehicle will be provided during the tour.
4. Meal. Two typical Chinese lunches will be arranged accordingly at noon. During the meal, a glass of soft drink will be provided.
5. Service Charge & Government Taxes.
6. Insurance. We provide a free insurance of accident and casualty for each traveler. The highest refund is RMB 300000.00. Detailed terms please view our contract with Ping An of China.
Our prices not included :
1. Your hotel.
2. Tips to the guide and driver
3. Anything not mentioned here.