Qinghai Province, located on the Qinghai-Tibet Plateau, with an area of 720,000 kilometers, is 1100 kilometers from east to west and 800 kilometers from north to south. It's the fourth largest province in China and borders northeastern Tibet. The Plateau, with an average elevation of 3000 meters, is frequently referred to as The Roof of the World and is the sources of three of China's major rivers, the Yangtze River, Yellow River and Mekong River can also be found in Qinghai. Snow capped mountains, ice peaks, deserts, vast pastures and myriad lakes weave Qinghai its unique, fascinating and colorful natural landscapes. Qinghai Lake is the largest inland saline lake in the country and is an excellent place for bird watching.
Qinghai is populated by a mixture of different ethnic groups including Tibetan, Tu, Mongols, Salar and Hui while Han comprise the majority of the population in Xining the capital of Qinghai.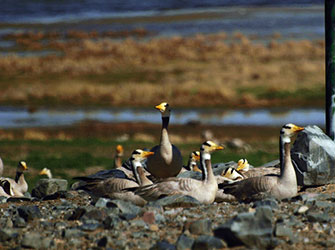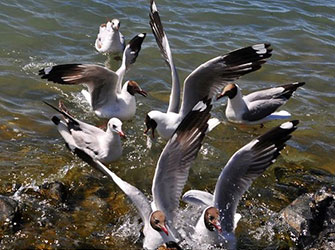 Xining is the largest city in Qinghai and is the capital of Qinghai province. At an elevation of 2275 meters Xining is located on the edge of Tibetan plateau it has a long history and has been a military garrison and trading center since the 16th century. Nowadays Xining, known as the 'Summer City' is a popular tourist destination, the famous Qinghai-Tibetan railroad is due for completion in 2007. This, the highest and longest railway in the world covers the 1142 kilometers from Xining to Lhasa and will considerably improve travel to Lhasa, capital of Tibet. The best time to travel to Xining and Qinghai is during the summer when the temperatures are comfortable and it not humid.

There's some decent, low density birding available right on the edge of Xining city itself where Rusty-necklaced and Daurian Partridges, Rock Thrush, Godlewski's Bunting, Pied Wheat ear and Brown Accentor can all be found. Pale Rosefinch also used to be seen in this area. Try the hillsides immediately to the rear of Xining Railway Station – access is open but beware the amaze or small roads here.

Birding around the Qinghai
Qinghai Lake (Koko Nur or Qinghai Hu in Chinese) is the largest salt lake in China. Covering an area of 4282 square kilometers it is at 3194 meters altitude and is 151 kilometers by road from Xining. It is one of the seven largest wetlands in China.

Over 200 species of birds have been recorded around the lake. The Quanwan area (between Heimahe and Niao Dao) is a breeding site for the endangered Blank-necked Crane. Although Qinghai Lake is a wintering site for Whooper Swan few other species of bird are present here in the harsh winter months. During the remainder of the year Saker Falcons, Upland Buzzards and Himalayan Griffons can be common and Lammergeyer occurs locally. Hume's Ground-tit is a common resident of the grasslands bordering the main highway and these same grasslands harbor a number of larks (Tibetan, Mongolian and Hume's Short-toed are particularly sought after) and all six Chinese species of snow finch. Scrub covered hillsides surrounding the lake harbor Plateau specialties such as Tibetan Partridge, Kessler's Thrush, White-browed Tit, White-tailed Rubythroat, Ala Shan Redstart, White-browed Tit Warbler and Pink-tailed Bunting.

Most birders spend at least two nights at Niao Dao and one at Chaka (the latter area hold Rusty-necklaced Partridge, Henderson's Ground Jay and Pallas's Sandgrouse) but a special permit is now needed for the latter site. These must be arranged in advance in Xining and can of course be organized by China Exploration. Some birders stay in the very poor local accommodation at Heimahe about 45 minutes drive from Niao Dao but we would not recommend this.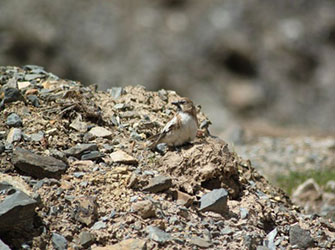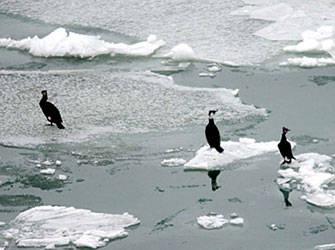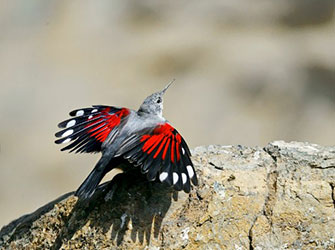 South of Qinghai Lake
The road south to the Yushu-Nangqian-Kanda Shan area is popular with birders. The area around Gonghe holds Rusty-necklaced Partridge, 'Margellanic' Lesser White throat and Mongolian Finch. The mighty Er La Shan Pass Tibetan Snowcock, Tibetan Sandgrouse and Tibetan Rosefinch while south of here Pink-rumped Rosefinch can be found. The Kanda Shan area harbors Ibisbill, Tibetan Babax and Tibetan Bunting. Grandala (rare this far north and east) is occasionally seen here. Chestnut-throated Partridge, White Eared Pheasant, Blood Pheasant, Sichuan Wood Owl, Giant Laughingthrush, Tibetan Babax and Chinese Fulvetta can all be found in the forests at Baizha about two hours drive from Nangqian. There's a variety of accommodation at Gonghe, Wenchuan (close to the Er La Shan Pass), Yushu, Nangqian and monastery accommodation at Baizha. Several groups of visiting birders have camped at Baizha.

Bird Island (Niao Dao)
300 kilometers away from Xining and on the western side of Qinghai Lake, Bird Island covers an area of just 0.8 square kilometers. During the right season it is thronged with breeding Ruddy Shelduck, Bar-headed Geese and Brown-headed Gulls. The best time to visit is from May to June and during September to November when there are thousands of wild geese, gulls, cormorants and a few shorebirds here and elsewhere around the lake. Pallas's Gulls are a popular attraction. There's now a good two-star hotel and numerous restaurants immediately outside the bird reserve.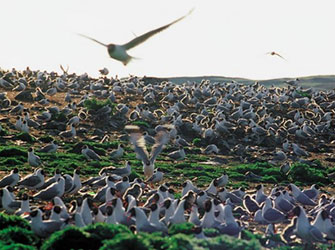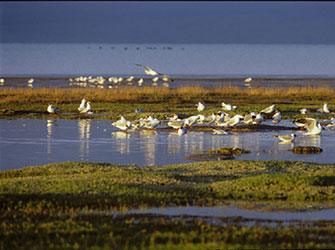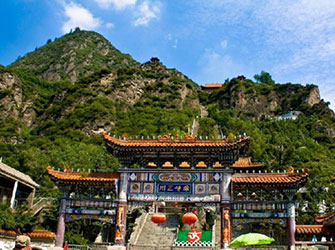 Longbaotan Black-Necked Crane NR
It is 80 kilometers away from Yushu town and is the breeding area for Black-necked Crane. At an altitude of 4200 meters the wetland here is about 25 kilometers long and three kilometers wide.

Huzhu Bei Shan
Two hours by taxi north of Xining the forests here hold a good selection of Chinese specialties such as Buff-throated Partridge, Tibetan Snowcock, Blue Eared-pheasant, Blood Pheasant, Chinese Grouse, Black Woodpecker, Prezewalsky's Nuthatch, Spotted Bush Warbler, Crested Tit Warbler; 12 species of phylloscopus warbler including Buff-Barred, Gansu, Chinese, Hume's and Large-billed; Chinese White-browed Rosefinch, Grey-headed Bullfinch and White-winged Grosbeak. Special permits are needed to visit Huzhu Bei Shan and these must be arranged in advance by a Chinese Travel Agent such as China Exploration. There's simple accommodation available at Huzhu Bei Shan though many birders have preferred to camp and take their own food and cooking equipment with them.

Laoye Shan and Dongxia
Prezewalsky's Nuthatch, Spotted and Chinese Bush Warblers, Crested Tit Warbler, Gansu and Chinese Leaf Warblers are just some of the ornithological highlights on this forested mountain close to Datong and 1.5 hours by taxi from Xining. There's a road all the way up to the radio station at the summit of the mountain. Most birders day trip these two sites from Xining.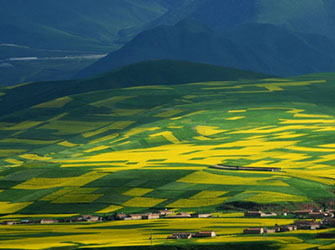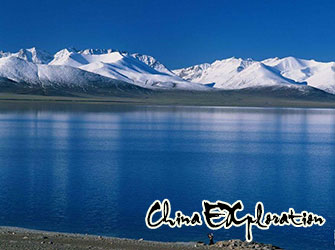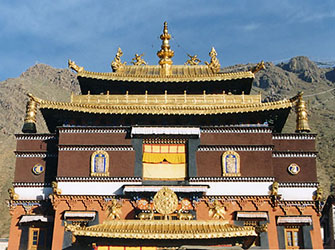 Tour Itinerary

D1: Xining
Upon arrival you will be met by your local tour guide and transferred to the hotel.

D2: Xining-Qinghai Lake-Bird Island
This morning we visit Kumbum Monastery which, in Tibetan, means Hundred Thousand Images of the Buddha Roaring Like a Lion. Then drive Northwest for the Bird Island. Watch birds and enjoy the beautiful landscape.

D3: Bird Island
Watch birds and enjoy the beautiful sea view.

D4: Bird Island-Xining
Transferred to Xining, free and relax during rest of the day.

D5: Departure Xining
Department of Xining.