The event themed "Travel the Southern Silk Road & Visit the Homeland of Pandas - Panda Fans Travel to Sichuan" was launched at Chengdu Research Base of Giant Panda in Sichuan Province on November 18, 2014.
The event fits with two huge events: international tourism marketing of Panda and Southern Silk Road and 2015 travel promotion "Beautiful China - Journey along the Silk Road".
It will select fans from six Panda residing countries, including Britain, France, Spain, Belgium, Germany and Austria. The selection will last from December 15, 2014 to January 31, 2015 and will pick out two fans from each country.
A couple from Belgium shared their strong love for Pandas at the launching ceremony. They said that they have collected more than 2000 Panda collections in the past 30 years.
"Fans can know more about pandas and the selection information by clicking the websitewww.tsichuan.com," Hao Kangli, Director of the Sichuan Tourism Administration said, "I sincerely invited all of you to travel to Sichuan, try delicious food and enjoy leisure life."
Besides, Song Ming, Vice Director of the Sichuan Tourism Administration introduced detailed information about Europe Panda Fans Travel to Sichuan.
"The final winners will travel across 14 countries of Eurasia with journalists and cultural experts," Song Ming said, "The tour, which will start from Europe in April of 2015, will arrive to Sichuan two months later. The event will explore the unique tourism resources of Sichuan Province."
The event will feature many highlights, including fans' selection among 6 countries, 13 Sichuan tourism promotion and 6 panda cultural exchange events. In addition, the organizer will make a variety show with panda fans and famous celebrities, so as to improve the international influences of Sichuan.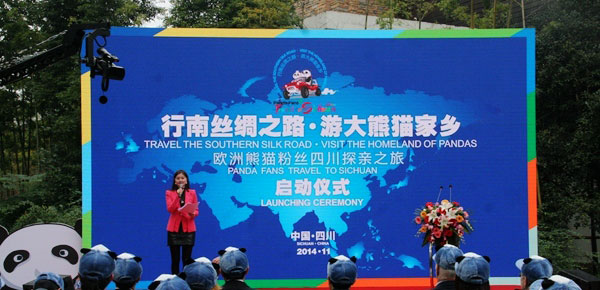 Article source: China.org.cn