Source:Xinhua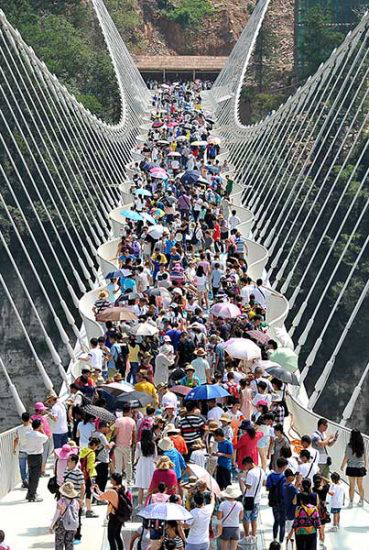 Tourists pack the bridge on Aug 20. The bridge was averaging more than 10,000 visitors a day.(Photo: Shao Ying/For China Daily)
The world's longest and highest glass bridge, in Zhangjiajie, Hunan Province, will reopen for China's Golden Week holiday in October, after a month long safety overhaul.
The bridge over the spectacular Grand Canyon Scenic Area in Zhangjiajie, a UNESCO world heritage site, was temporarily closed at the beginning of September, following a huge influx of tourists after its initial opening on August 20.
According to the bridge management committee, after the reopening on September 30, tourists will be able to visit the bridge by swiping their ID cards on machines at the entrance, after booking tickets via the official website.
The bridge was closed for safety modifications due to the need for an internal system upgrade, as more than 10,000 people were visiting the site every day, exceeding the planned daily limit of 8,000.
During the revamp, the management committee installed an intelligent monitoring system to help control the population flow at the entrance and exit, and also prepared a free shuttle bus service to take visitors to the area.
The 430-meter long, 6-meter wide bridge is paved with 99 panes of three-layer transparent glass and hangs between two steep cliffs 300 meters above the ground. The bridge set 10 world records for its design and construction.
A ticket for the bridge costs 138 yuan (21 U.S. dollars). No personal belongings are allowed on the bridge except wallets and mobile phones. Visitors are not allowed to wear high heels and must cross the bridge without the aid of the railings.