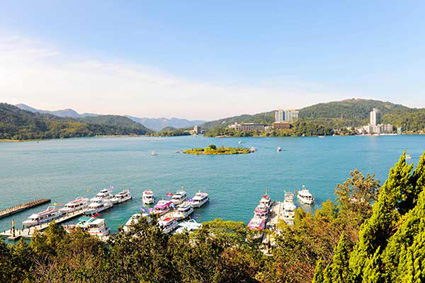 Taiwan has become one of the most popular travel destinations for mainland residents during the winter holiday season thanks to an increase in the quota allowed for tour groups.
The island's tourism authority has raised the daily quota from 5,000 a day to 8,000 between Nov 21 last year and Feb 19 to cope with the growing demand for travel during Spring Festival, which falls on Feb 8.
The authority raised the quota for tour groups several times in 2014 and allowed visits by tourists from more mainland regions. Residents in 47 mainland cities can now visit Taiwan as individual tourists.
As cooperation has strengthened between the two sides, cross-Straits tourism has boomed in recent years.
Zhang Hui, public relations representative at online travel agency Ctrip, said the raised quotas had led to a 50 percent increase in customers to Taiwan so far this year compared with last year.
In 2015, more than 4 million mainland tourists visited Taiwan, surpassing those from Japan to become the biggest spenders.
Taiwan's Economic Daily News reported on Jan 10 that each mainland traveler spent on average $232.15 a day in the first three quarters of last year, higher than the average of $221.45 spent by Japanese.
It is the first time that mainland tourists have taken the top spot since Taiwan opened up its group tourism to these visitors in 2008, and to individual mainland tourists in 2011.
Taiwan and mainland residents need visa-like entry permits for cross-Straits visits.
Ni Yongjie, deputy director of the Shanghai Institute of Taiwan Studies, referring to Taiwan's leadership election last weekend, said, "The mainland has always encouraged cross-Straits exchanges and cooperation, before or after the island's political transition."
"I hope the new (Taiwan) government can consider the traveling demands of people from both sides and continue to launch favorable policies."