A recent survey found that Shanghai residents have more tolerance for public square dancing, or guangchangwu, which has become a national controversy in recent years.
Group dancing in open squares or other public spaces is a favorite pastime for middle-aged and retired women across China, who usually enjoy it in the evening, or sometimes late into the night, as a good way to keep fit and socialize.
Amplified music at night has become an annoyance for some nearby residents, but not as annoying as other things.
For example, the survey, released by the city's statistics bureau on Wednesday, listed apartment decoration noise as the "most annoying one" for residents, far ahead of square dancing.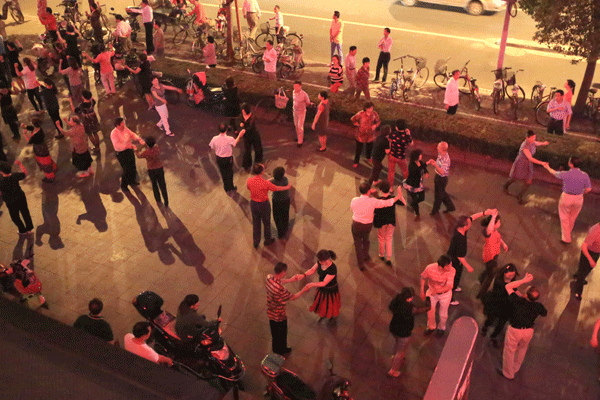 More than 1,000 respondents older than 13 took part in the survey on noise disturbances. The results showed that Shanghai residents judge noise from house decorating, vehicles and shopping mall loudspeakers as the most irritating, accounting for 35.1 percent, 16.2 percent and 12.3 percent of responses.
By contrast, square dancing and outdoor karaoke were not particularly disturbing. Only 8.6 percent of residents polled even thought about group dancing as a noise disturbance.
According to the report, 75.2 percent of residents supported the group dancing, and 73 percent of young residents supported it.
Beyond that, most residents said they thought square dancing is good for health, both mental and physical - 61.8 percent saw regular dancing as exercise and recreation, and 61.4 percent believed it helps elderly people expand their social circles and dispel loneliness.
"My mother is a fan of square dancing. She danced about one hour with her friends after dinner every day. I see nothing wrong with square dancing. After all, there are very few entertainment activities for middle-aged and elderly people," said 33-year-old Yang Hua.
Of the minority of respondents who opposed square dancing, 81.8 percent said the amplified music disturbed nearby residents' lives, and 46.3 percent said the group dancing monopolized public spaces, thereby affecting other people's exercise.
Twenty-four percent said some middle-aged and elderly people indulged in the dancing to such an extent that they disrupted family harmony.
In November 2012, the Shanghai municipal government released regulations to reduce noise pollution in social life. The rules provided a legal basis for protecting and improving residents' living environments.
Under the measures, from 10 pm to 6 am, entertainment and sports activities with musical instruments and audio equipment are not allowed in public spaces adjacent to sensitive buildings, including residences. Also, the measures include specific regulations relating to noise from house remodeling.
But the survey found that only 32 percent of respondents knew about the regulations.
"There should be some public education, telling residents how to do things in a proper way to protect other people's living environment. Everyone has the responsibility to reduce noise pollution," said a resident surnamed Wang.
Article soure:http://www.chinadaily.com.cn/china/2014-07/18/content_17830503.htm