News resource: chinadaily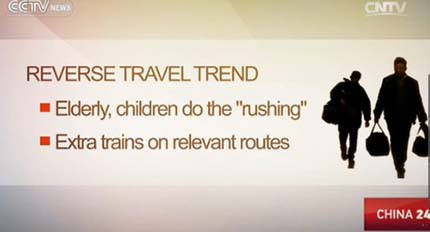 The travel rush to make it home for the Spring Festival is showing new trends this year. In the past, it was young people that did the 'rushing' back to their hometowns for the Festival.
This year, a reverse travel trend sees the elderly and children making the rush to unite with the young in the cities where they now work and live. More trains have been added on relevant routes to accommodate this trend.
Bus staff in Qingdao have unveiled new services for unaccompanied children on long-haul rides. The children will get a designated staff member to sit with and a 6-digit delivery code to ensure they end up in the right hands. Their parents are sent cell phone videos of how their kids are doing on the ride.
And Beijing railway police are getting new anti-terrorism equipment, including bullet-proof armored vehicles. The city's most crowded transport hubs will also see reinforced anti-terrorism personnel.