CNTA Chairman Li Jinzao Meets Indian Ambassador to China Ashok K. Kanta
http://www.chinaexploration.com
On December 22, CNTA Chairman Li Jinzao met with Indian Ambassador to China Ashok K. Kanta in Beijing. The two sides had in-depth exchanges on hosting the bilateral "year of tourism", deepening tourism cooperation between the two countries, and other issues of common concern. CNTA Vice Chairman Li Shihong attended the meeting.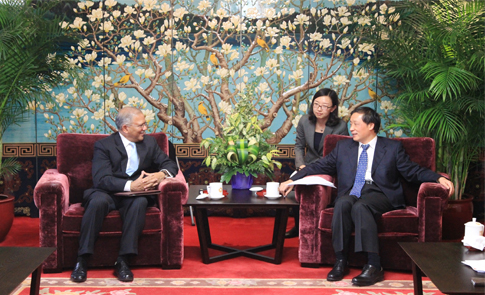 Li Jinzao thanked Kanta for his attention to and support for the cooperation in tourism development between China and India since he took office as ambassador. He said that China and India were currently building closer ties as development partners, that the "year of tourism" is an important consensus reached by state leaders of the two sides, and that this offered a precious opportunity for the two countries to deepen tourism cooperation. He also said that thanks to the efforts made by both sides, India's year of tourism in China was a great success this year and the tourist flow between the two countries increased significantly. China will host its year of tourism in India in 2016 and hope the Indian side can provide active assistance.
Kanta thanked the Chinese side for offering strong support for India's year of tourism in China. He said that state leaders of both countries paid close attention to bilateral exchanges on tourism, and tourism had become an important part of cultural communication as the ties grew between the two countries in the past years, playing an active role in promoting mutual understanding and reinforcing the friendship between the two sides. India is willing to cooperate closely with China for China's year of tourism in India next year.
The two sides also exchanged opinions on tourism visa facilitation and preparations for the opening ceremony of China's year of tourism. Also present at the meeting were Zhang Lizhong, Director of CNTA Department of Tourism Promotion and International Liaison; and Namgya C. Khampa, Counsellor of Economic and Business Affairs of the Indian Embassy in China.