source:xinhuanet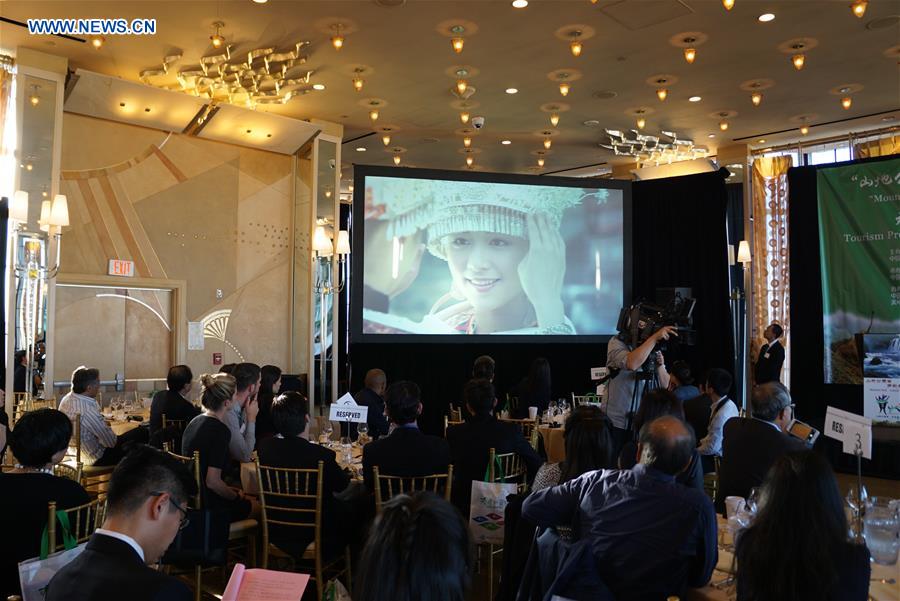 Photo taken on Sept. 27, 2016 shows the scene of an event to promote tourism in China's Guizhou Province, held in San Francisco, the United States. From tourism to big data, Guizhou Province in southwestern China has presented itself as a tourism destination as well as an information technology pilot for the world to see. (Xinhua/Xu Yong)
SAN FRANCISCO, Sept. 28 (Xinhua) -- From tourism to big data, Guizhou Province in southwestern China has presented itself as a tourism destination as well as an information technology pilot for the world to see.
Mr. Chen Gang, deputy director of a task force directing the national big data pilot project in Guizhou, a mountainous province known for its scenic landscape and ethnic diversity, has spent almost a week on the U.S. west coast to talk about what is going on with his province.
On Monday, Chen led a provincial delegation to Santa Clara, at center of Silicon Valley in northern California, to promote a big data pilot zone in Guizhou, the only one receiving designation and funding from China's central government to build big data infrastructure, experiment on internet of things (IoT) and cloud computation, and other applications.
On Tuesday, he was in downtown San Francisco, north of Silicon Valley, to showcase Guizhou's tourism resources.
With a doctoral degree in chemistry and a top leadership position within government institutions at Guiyang, the provincial capital, Chen did not see tourism and big data as two industries far from each other.
At the Santa Clara event, he cited city management as an area where big data has a role. For instance, data mining helps Guiyang municipal authorities to see where passengers, both local residents and tourists from outside the city, need short rides to go from one place to another. The city, already overloaded with private cars, therefore is able to improve taxi services and car-sharing practices while cracking down on unlicensed cabs.
He told more than 150 people at the event, including some from businesses in Silicon Valley, that multinational American companies such as Google, Microsoft, Oracle, Intel, Qualcomm, Dell, International Business Machine (IBM) and Hewlett Packard Enterprise (HPE) have joined Baidu, Alibaba, Huawei, ZTE, China Telecom, China Mobile, China Unicom and other leading Chinese information technology companies to operate research and development (R&D) centers or projects in Guizhou.
Baidu, an internet company headquartered in Beijing, the Chinese capital, has explored the possibility of road testing its self-driving vehicles in the province, once hard to reach with any transportation means for centuries but now proud to have a web of highways and local roadways through mountainous terrains reaching every county and city seats and rural villages.
The mountain park province, as Chen called it, is boasting the world's largest water fall, arguably one of the world's oldest military fortress and the world's largest botanic garden, plus mountains, canyons, karst caves, forests, grassland, wetland and lakes, 3 of them on the list of world heritage sites recognized by the United Nations Educational, Scientific and Cultural Organization (UNESCO).
As colorful as the natural scenes are the people living on the territory, Chen noted at the San Francisco event attended by state and city officials and tourism industry representatives, adding that 17 ethnic hill tribes are there in Guizhou to show their rich and diversified and strikingly beautiful heritages, from clothing to music and dance, from construction structures of their residence to festive rituals. Tourists to Guizhou saw a 40 percent increase last year, he said.
At both events, Chen showed pictures of a new structure, a radio telescope known as the Five-hundred-meter Aperture Spherical Telescope, or FAST, the world's largest and most sensitive of the kind, inaugurated in Guiping county, Guizhou, on Sunday, Sept. 25.
Built with a 4,450-panel reflector as large as 30 football pitches to survey neutral hydrogen in deep space, observe celestial objects called pulsars, help with spacecraft tracking and communication, FAST is expected to help search for extraterrestrial intelligent life, or ET, possibly existing somewhere in the universe.
Chen said FAST is a new must see for visitors to his province.
Previously a top administrator in a district of Beijing before being reassigned to Guizhou about three years ago, the official did not consider switching the topics from tourism to big data as a frog leap. He believes both industries can work on a eco-friendly development strategy for a province relatively less industrial and yet having huge economic potentials.
However, Min Song, a Chinese-American presiding over local U.S.-China Cultural and Communication Association, who helped organize the big data promotion event, was amazed. He visited Guizhou once on a business trip some 20 years ago, when it was one of the least developed provinces in China, said he never thought about the province would be turned into a high technology host of any kind.
"You are all welcome to tour Guizhou," Chen told his audiences.