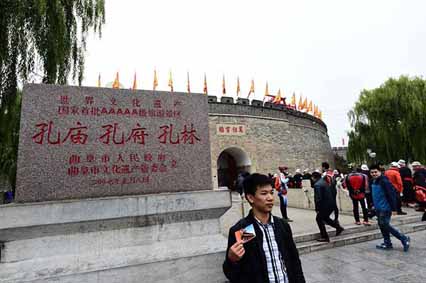 Places associated with philosophers Confucius and Mencius are now free for China's 15 million teachers in an effort to promote traditional culture.
The three tourist venues -- the Temple, Family Mansion and Cemetery of Confucius, or Kong Zi, are all in Qufu city, Shandong province.
"Confucius is a teacher model for generations. We come to pay our tribute to him, to remind us to be good teachers and remember our duties," said Song Min, 58, a math teacher from Caoxian county in Shandong. He was among the first batch of 65 teachers who visited the venues on Friday morning.
Born near the present-day town of Qufu, Confucius (551-479 BC) founded a school of thought that influenced later generations and became known as Confucianism. He is believed to be the first person to set up private schools in China and enroll students from all walks of life.
"Confucius is the teacher for all. Free access could make more teachers learn from him to become good teachers," said Li Changsheng, Communist Party chief of Qufu.
Inscribed on the World Heritage List in 1994, the three spots host around four million visitors each year.
Also on Friday, the Temple and Family Mansion of Mencius in Zoucheng city, Shandong, began to offer free access for domestic teachers except during the national holidays. The two spots are also on the country's key protection list.
Mencius (372-289 BC), or Meng Zi, was a pupil of Zi Si, grandson of Confucius. He traveled all his life expounding Confucianism.