By Yang Feiyue | China Daily Global | Updated: 2020-11-03 08:11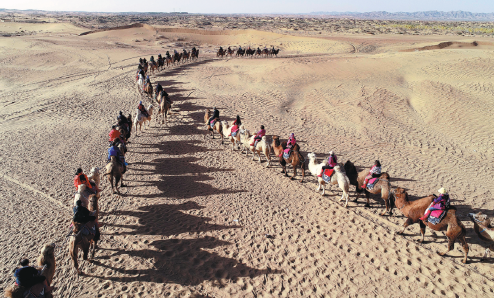 The region has emerged as a particularly popular destination since the country has brought COVID-19 under control, Yang Feiyue reports.
Northwest China stands out as a hot destination since COVID-19 has been brought under control nationwide.
Zhang Han, for instance, has booked an early-November flight to Yinchuan, capital of the Ningxia Hui autonomous region.
"Most of my friends shared their travel moments on WeChat during the National Day holiday (Oct 1 to 8).They tempted me," says the 23-year-old from Fuzhou, capital of East China's Fujian province.
"Travel abroad isn't an option now. And I've been to many popular southern destinations already," Zhang says.
He also hopes to take advantage of lower post-holiday travel costs.
The costs of some popular routes have been halved for the period from mid-October through November, compared with the holiday.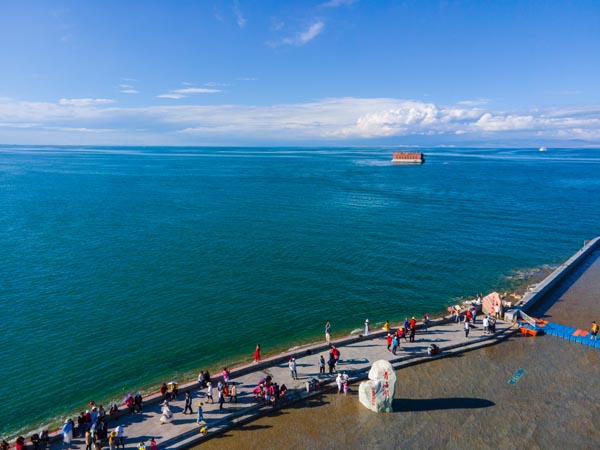 A 10-day trip that covers Qinghai province's Xining and Qinghai Lake, Gansu province's Dunhuang, Jiayuguan Pass, Zhangye and the capital city, Lanzhou, is priced at about 3,000 yuan ($450), about 60 percent off compared with the National Day holiday.
The Xinjiang Uygur, Ningxia Hui and Inner Mongolia autonomous regions, as well as Gansu and Qinghai have garnered surging popularity during the eight-day holiday.
Searches for travel offers in Northwest China surged 475 percent month-on-month in early September, Shanghai-based online travel agency Trip.com reports.
Xinjiang received over 15.35 million tourist visits during the National Day holiday, up nearly 11 percent compared with the same period last year, according to local authorities.
Visits to Inner Mongolia and Gansu both exceeded 15 million in the same period, while Ningxia and Qinghai took in more than 3 million travelers, respectively.
During the National Day holiday, Xinjiang and Ningxia were among the top two destinations that saw the fastest spending growth on a yearly basis, according to UnionPay data.
Spending on Xinjiang flights tripled, and spending on scenic-spot tickets in Ningxia increased by 20 percent, UnionPay reports.
Hotels and attraction-ticket consumption increased most in Qinghai and Inner Mongolia, by more than 10 percent each compared with the same period of last year.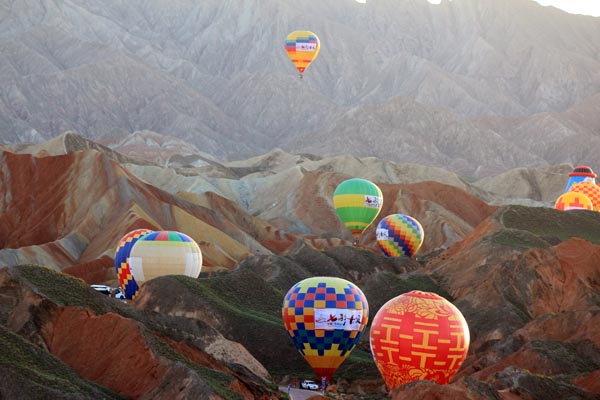 Ticket sales at Gansu's Zhangye Danxia National Geological Park surged 30 times during the National Day holiday, as compared with the May Day holiday from May 1 to 5.
People from Guangdong province and Shanghai began to plan their trips to the northwest in August. Flight searches for Lanzhou have increased the most.
The region hosts most of the country's distinctive natural features.
The biggest draws include deserts, camel riding, danxia landforms and historical sites along the ancient Silk Road.
Highway 66 in Ningxia's Zhongwei cuts through the Gobi Desert and leads to China's fourth-largest desert, the Tengger. Travelers who take the highway can walk along the Yellow River, visit ancient villages and view the Ming Dynasty (1368-1644) Great Wall.
Xinjiang's Kanas scenic area features a spectacular array of lakes, glaciers, forests and grasslands, and has become the most popular destination in the region, receiving over 568,000 visitors during the National Day holiday, up 8 percent compared with the same period of last year.
A significant number of travelers have opted to rent cars when traveling in the northwest, Trip.com reports.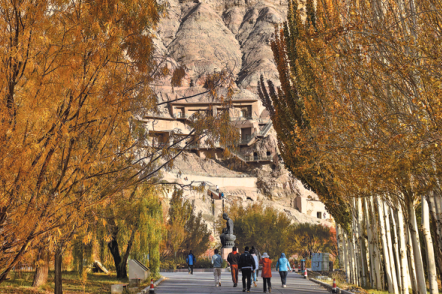 Xining witnessed a 140 percent increase in car rentals by travelers during the holiday, the most of all the cities nationwide.
RV tours have also been gaining traction in the sparsely populated northwest.
Gansu spans more than 1,600 kilometers from east to west, 400 km more than the distance between Beijing and Shanghai, making it ideal for recreational vehicles. The province hosts over 20 RV campgrounds.
"The RV-rental market has been booming since the summer vacation," says Gansu Guantianxia International Travel Agency's general manager Zhang Shiqi.
The company rents out 140 RVs in Lanzhou and Xining.
Many customers prefer RVs over group tours this year due to COVID-19, Zhang says.
Regions, including Gansu, Qinghai and Xinjiang, are building RV campgrounds and improving services for tourists traveling by RV, he says.
Favorable policies have also been adopted to attract travelers to the northwest.
Xinjiang's 440 top-rated scenic sites waived ticket fees during this year's National Day holiday, and the region has developed a series of distinctive routes for people who drive themselves.
All scenic spots in Gansu's Gannan Tibet autonomous prefecture also offered free admission to visitors during the holiday.
However, per capita spending in most northwestern destinations averages around 500 to 600 yuan, because of fewer shopping facilities and entertainment programs compared with first-tier cities like Beijing and Shanghai.