Resource from Ecns.cn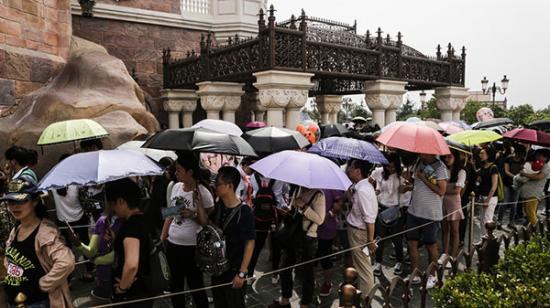 Visitors to Shanghai Disney wait in a long queue to enter. (File photo)
(ECNS) -- Five sites at Shanghai Disney Resort were closed without advance warning, enraging visitors left waiting in line for hours, Beijing Morning Post cited Shanghai Television as reporting.
Shanghai Disney declined demands for a refund, instead offering each an admission ticket valid for a year as compensation after more than an hour of negotiations.
The closedown was due to unpredictable conditions, explained a Disney executive, adding the resort would also temporarily close other sites for maintenance and operational requirements.
A visitor surnamed Liu from northwest China's Gansu Province said popular sites such as the Pirates of the Caribbean and Roaring Rapids rides had all been closed for an overhaul.
"Why didn't you inform tourists of the plan in advance, rather than just leaving them waiting for hours in vain?" she asked. Liu said she entered the theme park in the morning, and spent just one hour on entertainment and the rest on waiting.
Another visitor, surnamed He, said "Until the last moment we didn't see any higher-level leaders show up to address the problem, which made us very angry."
Many of the tourists had taken children to the resort for their summer vacation and did not expect the trip to play out the way it did.
Liu said the resort broadcast a notice of the shutdown only when it discovered the facilities needed to be checked and fixed, but by that time visitors had already been waiting in line for two to four hours.