CE-CT-09
Sichuan is known as the Paradise of Tourist in China due to its rich resources both in culture and nature. And in this tour China Exploration will take you to the off-beaten path to trace its unique and diverse culture.
Schedule:
Day 1 Chengdu
Arrive in Chengdu today, one of the most ancient cities in China, also the culture center of Southwest China. Transfer to hotel.
Day 2 Chengdu / Mt. Qingchengshan
Drive to the sacred Taoism mountain of Qingchengshan in the morning within 40 minutes in the morning, and then ascend the top of mountain by cable car and have a panarama view of the picturesque mountain, and then hike down the mountain via the ancient Heaven Master Cave. In the afternoon meet with the master of Taiji at the foot of mountain, and then learn Qingcheng Taiji with the master. Qingcheng Taiji is quite hot in China now due to its more affectiveness in keeping fit. Night in local hotel at Qingchengshan mountain.
Day 3 Qingchengshan / Ya'an / Shangli
Our destination will be Ya'an today. Sichuan is famous for tea, and it is necessary to learn about tea culture here. We will learn picking tea as well as making tea with local workers in the way to Ya'an. In the afternoon we will arrive in Shangli old town, and have a leisure walk on this ancient town of tea and horse trade.Night in local hotel today.
Day 4 Bifengxia / Leshan / Emei
Sichuan is the hometown of Giant Panda, and Bifengxia is one of the best place to enjoy this lovely creature. It is amazing to enjoy scores of adult and young panda in various cages and open garden. After the tour of Bifengxia panda garden, we will drive to Leshan in about 1 hour. After lunch, your tour guide will show you the wonder of ' Buddha is the hill and the hill is a Buddha and then we will walk up the Giant Buddha. along the zigzagging trail. In the late afternoon we will drive to Emei in 30 minutes.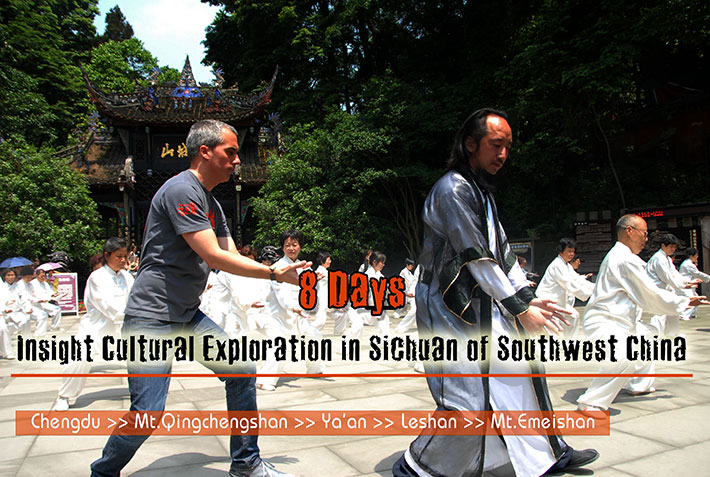 Day 5 Emeishan Mountain Tour
Our pilgrimage tour to Emeishan mountain starts early today. We will firstly take local environment bus to the Golden summit of mountain. When sky is clear, you can overlook the Sichuan Basin, or even see the snow peak of Mt Gongga hundreds miles away. And the huge golden Buddha Statue is looking into 10 directions by his 10 faces.
After lunch, we will head for the mid mountain and explore Qingyingge Pavillion and Wannian temple, also the monkey reserve. And descend the mountain in the late afternoon.
Day 6 Emeishan / Chengdu
Paper is one of the great inventions of ancient Chinese. And traditional way of making paper is still well reserved in Sichuan, so in the morning, we will head for one of the family factory located in the bamboo sea, where we will see all of the procedure of making paper, and we will also have chance to practice making paper ourselves. In the afternoon we will return Chengdu, and then visit Shanshengxiang village, which is the good sample of China village economy, and it is also a nice place to watch lotus.
Day 7 Chengdu Culture Tour
Sichuan food is known in worldwide, and we will learn a few course of Sichuan dishes today. Konbao chicken, Mapo bean curd may be the most popular food, you can show it to your family now! In the afternoon you will walk in the Wide and Narrow Alley built about 300 years ago. You can trace the ancient history through the square yard and wooden door. About 1 hour's visit here. It is also a good place for photographers. And then we will drop a visit in another old street of Jinli in the late afternoon.
Mask changing is one of the most attractive program in Sichuan opera, so today we will enjoy it! Besides it, we will also enjoy the show of rolling light, spitting fire, etc.
Day 8 Chengdu Departure
Bid Farwell to Chengdu today and then transfer to airport.