Kevin's Muli Trekking tours in 2007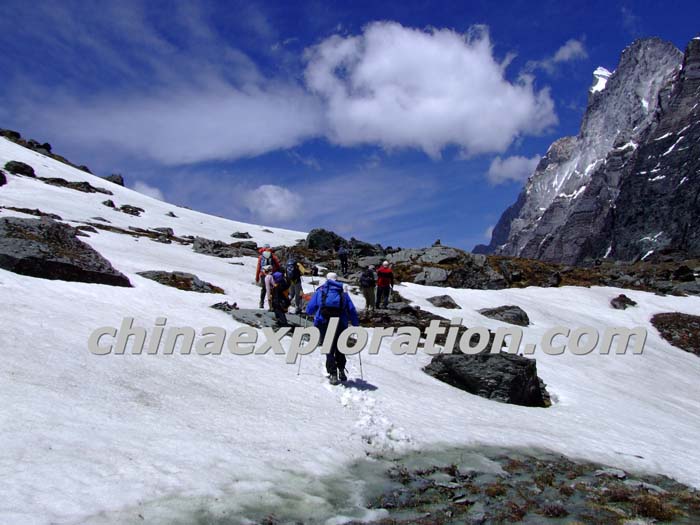 Kevin was one of the best adventure tour leaders for China Exploration, he had led many tour groups of trekking tours, overland tours in China Exploration. Although he has left tour industry and working as crew of America Consulate in Chengdu, we still often recalled his excellent works devoted to China Exploration in the past time.
And here we would like to recall the Muli Kingdom he led in 2007. It was the golden year of China inbound tours, and we were running many adventure tours at that year, and then so we welcomed the Austrian group of Mr. Siegfried Fischer at end of May. It was a group of 8 people.
The earliest time of trekking tours between Muli Kingdom and Yading were running by China Exploration in 2001, after that no more groups went there, neither other tour companies. It was a route of difficult degree, people had to climb over many snow mountains around 5000 meters in sea level, so China Exploration had sent 2 crews to inspected the route again in March in order to make sure if there was any change in route and safety. And Kevin was chose as tour leader for this trekking eventurally after he received further training about trekking and serving.
The tour started in May 21st from Lijiang, after a few days' accustomized trips in Lijiang and Luguhu lake, Kevin and his collegues met the group at Muli county. It was 5 days' hard trekking from Dulu village, Kevin could not know many mountains they had climbed over. Everyday, they just got up very early to prepare for the breakfast for the clients, and then packed up and started to trek, and arrived at the camping base before Sun set, and then they started to prepare dinner. Nature en route were extremely beautiful, he had never seen so many beautiful snow peaks, lakes, and grassland in his life, of course, work was hard.
And for them, they not only enjoyed the beauty, and they also experienced danger. A storm had stroke one of the mountain pass, even for the horses they could hardly passed. But Mr Gold Huang, the leader of cooking team from China Exploration, stood like a post at the dangerous place and let every toursit and horse passed safely. At that night, a horse was frosen to death, but thanks for God, all of the tourist were safe due to the good works of China Exploration.
And they arrived in Yading 5 days later, and then boarded on the coach to Bifengxia Panda Reserve, and completed the tours in Chengdu. Of course, for them the remaining tours were just a piece of cake. Just relax!

And many thanks for Kevin's brilliant photo skills, and we could enjoy how the tour was!