The introduction of Zhangjiajie Forest National Park:

Hemmed in by towering mountains,Zhangjiajie National Park is actually an immense natural garden of sculptures that displays splendid assortment of peculiar natural sculptures.
Located at the west of Hunnan Province,southern China,with a total area of 8,000hectares,the park owes its special beauty to the peculiar geomorphology of soaring peaks made of quartz sandstone ,ravines and serene Karst caves. The crustal movements that occurred hundreds of million years ago in the long geological period created myriads of the rocky formations,canyons,rivers,streams,lakes,
Water-falls and hot springs here,which are highlighted by the 85 natural wonders with great scientific and aesthetic values in every season.
Massive abrupt peaks,mostly grouped in dense clusters,stand out in sharp relief all over the dim,silent,deep and narrow gullies. Rising high above the ground,clusters of sandstone pinnacles provide visitors with sweeping and panoramic views.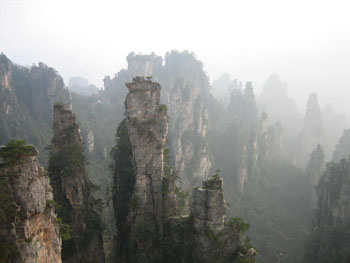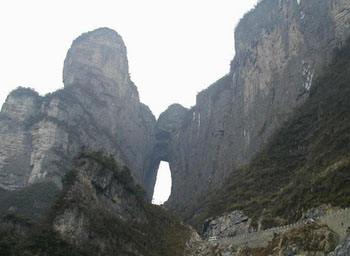 Main scenic spots
The Majestic And Grotesque Peaks
The Golden Whip Stream is one of the most stunning natural beauties in this park,whose green and limpid water traverses in the clusters of towering peaks and an array of deep valleys that resemble fluted columns,giant pillars,giant bamboo shoots,wild beasts,rocky sentinels watering over the landscape,pagodas,tall turrets and so forth.
The West Sea is studded with the grotesque rock forests of gigantic sandstone peaks and clustered monoliths,that at first glance resemble a vast sea of peaks,a sea of clouds and a sea of forests. The Monkey Head Peak,the Flower Vase Peak along with many other notable peaks,either standing alone or in clumps,created a number of freak formations or fanciful figures such as monkey's head,flower vases,green forests,rushing waterfalls and streams,purple camel crossing the river,stone pavilion,roaring tiger and so on. They make you dizzy and breathtaking when you look upwards at them.
The Amazing Waterfalls
Rushing waters from the rivers and streams spill over the edges of the cliffs,creating a number of waterfalls in this park. Rainbows make beautiful appearance in the sunlight. The Ten-Thousand-Piece-Waterfall,one of the big waterfalls here,leaps down through a terraced steep mountain slope of over 300 meters high,and its course is interrupted by the terraces at different levers,making it like water chains hanging in the air. The Snow in June. A waterfall plummets down the cliff of over 100 meters high and sprinkles on the middle way like flying flakes of snow in the air,making colorful glitters in the sunlight.
The Geyser And Hot Springs
A stream-side in the Xiaxi Village is dotted with a geyser,that spurts hot water in the air for 5-6 minutes in every 20 minutes. The park is also punctuated with over 10 hot springs,which offer steaming hot waters of 30--60ºC for a number of public bathhouses and guest houses around them.
The Valuable And Rare Ancient Tree Species
Nurtured by warm climate and sufficient rainfall,this park harbors a great variety of plant life including primeval dense forests of various tree species. Woody plants consist of over 500 species,of which dozens of species are valuable and rare ancient tree species unique to China such as Dove tree,Ginkgo,Maire yew and Chinese tulip tree. This park provides good habitats for 27 species of beasts and 41 species of birds. China,therefore,set this park aside as its first forest national park a number of years ago.
The United Nations Educational,Scientific and Cultural Organization(UNESCO),therefore,has enclosed this park into the List of World Heritages in 1992 because of its significant value in preservation and scientific research. Equipped with modern accommodations,this park has become one of the most popular tourist resorts in China.
Related Tours: