Introduction of Xiahe

Xiahe is a tiny, bustling town centered in a valley of the Ganan Tibetan Autonomous Prefecture, southwest Gansu. It is about three thousand meters above sea level. It is nestled in a beautiful mountain valley and is the location of famous Labrang Monastery. Labrang Monastery is second in size to the Potala Palace in Lhasa, so Xiahe is visited not only by increasing numbers of tourists but also by innumerable Tibetan pilgrims, many of whom have traveled vast distances to do so.
Main attractions in Xiahe
Labrang Monastery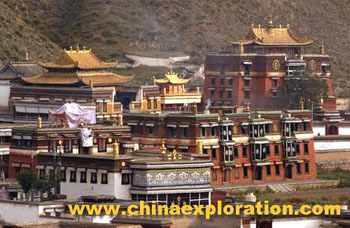 The Labrang Monastery is located at the foot of the Phoenix Mountain northwest of Xiahe County. A propitious place in the hearts of the Tibetan, it stands by the Daxia River and faces the Dragon Mountain.
The architectural layout of the Labrang Monastery belongs to the Tibetan style and the construction patterns are mostly Tibetan, Han's mode and a compound style of both Han's and Tibetan. The symbols of the whole construction are the White Towers both in the northeast and in the northwest. The grand sutra and Buddha halls are located in the northwestern part centered around the Grand Sutra Hall. Other halls spread in a shape similar to a crescent moon.

The Labrang Monastery boasts tens of thousands of statues of Buddha made of gold, silver, copper, and aluminum. There are statues with ivory, sandalwood, jade, crystal and clay as the basic materials. These Buddha statues are all lifelike with kind-looking faces, which give you a real enjoyment of beauty. In addition, the monastery possesses many Buddha hats and many Buddhist treasures adorned with pearls, jadeite, agate and diamonds.
Sangke Grassland

Sangke grassland lies about ten kilometers west of Xiahe County, Gansu province. It enjoys a good reputation in the northwest Tibetan district for its excellent pasture and frequent magnificent Buddhist ceremonies. Belonging to the meadow steppe and bordered by the Daxia River, Sangke prairie is at an elevation of 3000 meters (9843 feet) with an area of 70 square kilometers (27 square miles).

The prairie is named for the summer-blooming sangke flowers that form a natural carpet extending to the far horizons. Reflecting sky and mountains, the Daxia River twists through grass and earth like an undulating silk belt. Countless sheep, yaks, and tents are visible over the prairie.

Visitors can travel by bicycle or on horseback. It is possible to stay overnight with a local family or to rent a tent and experience Tibetan food such as yak-butter tea, stuffed steamed buns, mutton, and Zanba (a traditional Tibetan staple food of roasted highland barley flour).
Climate of Xiahe

The annually average temperature of 2.6 centigrade degree with the highest of 28.4 and lowest of -26.7
| | | | | | | | | | | | | |
| --- | --- | --- | --- | --- | --- | --- | --- | --- | --- | --- | --- | --- |
| Month | Jan | Feb | Mar | Apr | May | Jun | Jul | Aug | Sep | Oct | Nov | Dec |
| Temperature (Celsius) | -2.6 | -1.2 | 2.5 | 10.1 | 15.8 | 20.0 | 25.8 | 28.4 | 21.4 | 18.4 | 14.1 | -1.7 |