Introduction of Leshan and the Giant Buddha Statue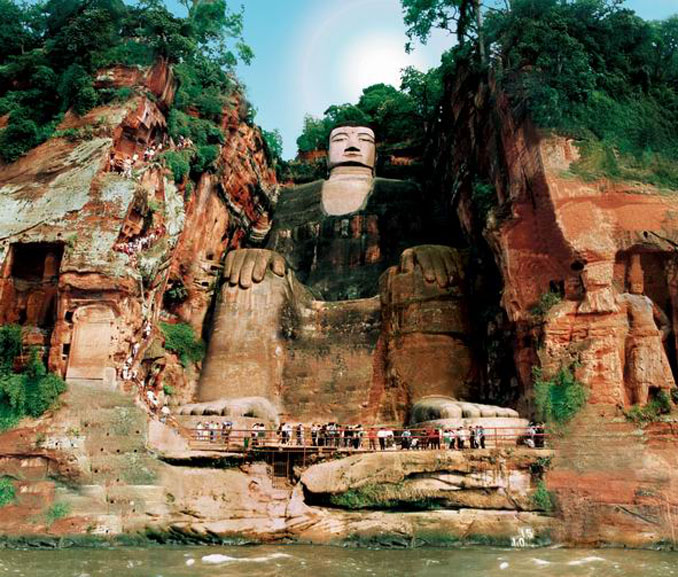 Near the ancient market town of Leshan in southwest Sichuan Province, we will embark in boats to get close-up photos of the giant Buddha that dominates the cliff overlooking the confluence of three rivers. This mammoth Buddha towers approximately 220 feet high in its Cliff-side setting and measures more than 85 feet across. It is easily the world's largest carving of the deity.

The brooding figure was created to subdue what monks believed was a river monster living at the spot who caused floods and capsized passing boats. Master Haitong, abbot of the nearby Lingyun Monastery, ordered work to begin on the huge carving in the first year of the Tang Dynasty in 713 AD. It was finally completed 90 years later in 803 AD. The statue incorporates an internal drainage system, some of which is visible, to shed rain and reduce weathering. A cave in the chest of the Buddha contains a mysterious broken headstone dating from the Song Dynasty. The Leshan Giant Buddha is on the World Heritage List and its protection has drawn global attention. UNESCO has sent experts to oversee protective plans and the World Bank has offered $8 million in interest-free loans for the work.

Construction of the Buddha was often under threat. It is said that when an avaricious official once sought a payoff from the funds donated to build the statue, Master Haitong defied him, saying "you may gouge out my eyes, but you may not touch the Buddha's money." Being threatened, he next gouged out his own eyes and presented them to the corrupt official on a tray, and the man fled in awe and terror.
Climate of Leshan
| | | | | | | | | | | | | |
| --- | --- | --- | --- | --- | --- | --- | --- | --- | --- | --- | --- | --- |
| Month | Jan | Feb | Mar | Apr | May | Jun | Jul | Aug | Sep | Oct | Nov | Dec |
| Temperature (Celsius) | 5.1 | 3.2 | 8.3 | 18.5 | 24.0 | 28.1 | 31.5 | 33.4 | 29.4 | 27.4 | 18.1 | 11.1 |