Introduction of Hangzhou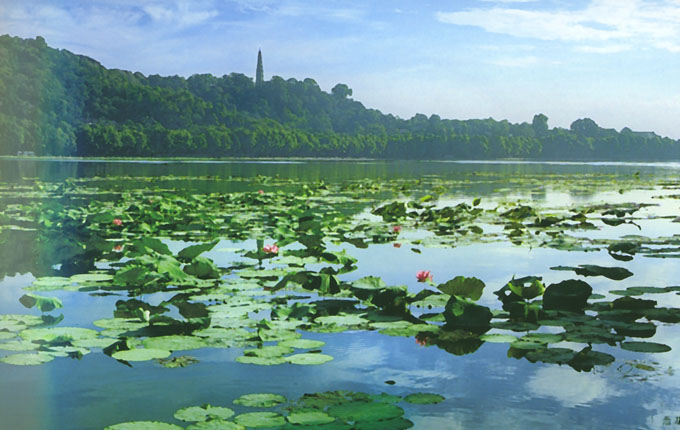 Located on the east coast of China, Hangzhou, the capital of Zhejiang Province, is a city with historical and cultural heritage, a city for sightseeing and tourism, a metropolis in Yangtze delta. The climate in this area is warm and humid, with four distinct and well-proportioned seasons in a year. Under the jurisdiction of Hangzhou are eight districts and five counties and towns, which cover an area of 16596 square kilometers with a population of 6116400.
Main attractions in Hangzhou
Lingyin Temple
Lingyin temple or "Soul's Retreat Temple", is one of the best-known Buddhist monasteries in China, built in 326 AD at the foot of Lingyin Mountain in Hangzhou. The main hall in Lingyin Temple is about 34 meters (111ft) tall - incredibly high for a one-story building. In the center of the hall there is a statue of Sakyamuni Buddha, which was carved from 24 pieces of camphor wood. The two stone pagodas in front of the hall were built in 960 during the Song dynasty (960-1271).
West Lake: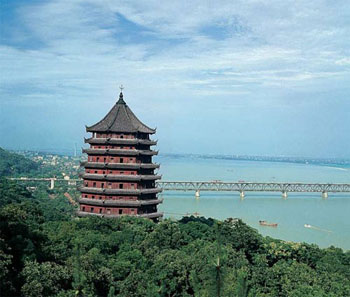 "Rippling waters shimmering on a sunny day, Misty mountains shrouded in rain; Plain or gaily dressed like Xizi; West Lake is always alluring." These are the words used by the celebrated Song Dynasty poet Su Dongpo to describe Hangzhou's West Lake. Regarded by many as China's most beautiful lake, standing on its shores, it's easy to understand Su's allusion to Xizi, reputedly ancient China's most beautiful woman. The subject of many of the country's most famous literary and artistic works, and the inspiration for countless more, West Lake has for centuries been working its charm on all those who gaze upon it.
Longjing (Dragon Well) Tea:
Longjing Tea is most famous for its unique fragrance and flavor; flat, slender strips of tea leaves in bright green liquid. Furthermore, Longjing tea aids one's health in many ways regardless of your age. It is used to deter food poisoning, refresh the body, stop cavities, fight viruses, control high blood pressure, lower the blood sugar level, and to prevent cancer. Hence, Longjing tea is regarded as the elixir for health and is widely sold and accepted all over the world. The name Longjing is from a small village on the Fenghuang Hill, in Hangzhou Zhengjiang Province. It is said that residents in ancient times believed that a dragon dwelled there and controlled the rainfall. As a result, people went there from all the surrounding areas whenever there was a drought to pray for rainfall, from as early as the Three Kingdoms Period (221-280).
Liuheta (Six Harmonies Pagoda):
Liuheta Pagoda is a huge structure originally built during the Song dynasty in 971. It was originally designed as a lighthouse to help boats navigate the Qianliang River, which it overlooks. The pagoda was a Buddhist structure from the beginning and was named after the six regulations of Buddhism. As pagodas tend to do in China, this one burned down several times, but the basic form of the present pagoda dates to 1152, with the last major renovation occurring in 1900. The pagoda has 13 stories of rafters on the outside, but is divided into seven stories on the inside. The layout is an octagon, representing the Eightfold Path of Buddhism, with masonry and stone wall. What makes the pagoda so impressive is the floor space it occupies, several times greater than the footprint of other similarly aged pagodas in China. This is undoubtedly due to the use of two concentric octagons in the floor plan. This leaves a central niche on each floor, surrounded by a ring of halls. Wooden floors have been built jutting out from the second ring of stones, from which an excellent view of the river and the mountains can be taken in.
Climate in Hangzhou
Hangzhou has hot and humid summers and cool, relatively dry winters. In July the average high temperature is 33 degrees Celsius; in January the average high is 8 degree Celsius. Hangzhou receives an average annual rainfall of 1450 mm.
| | | | | | | | | | | | | |
| --- | --- | --- | --- | --- | --- | --- | --- | --- | --- | --- | --- | --- |
| Month | Jan | Feb | Mar | Apr | May | Jun | Jul | Aug | Sep | Oct | Nov | Dec |
| Temperature (Celsius) | 3.1 | 4.3 | 10.5 | 20.1 | 25.8 | 29.0 | 33.8 | 36.4 | 32.4 | 24.4 | 19.1 | 10.7 |