Introduction of Fenghuang (Phoenix Ancient Town )

Fenghuang, a famous city of historical and cultural significance, a small, picturesque, mountain surrounded, and with unique culture city. To Jishou 53Km, Huaihua 92KM, Zhangjiajie 280KM. Fenghuang county, covers an area of 1783 sq KM, with population of 367000, with many ethincs such as Miao, Tujia, Han, Hui people etc. It boasts a wealth of cultural accumulation of Hubei and Wushan areas due to its location between the 2 different cultural areas of southwest China's ethnic minorities and east China's Chu and Han groups.
Fenghuang town is a wonderful example of what villages were like prior to the onset of modernization. Fenghuang is so picturesque that it is a very popular excursion for Chinese artists to be there for pictureing, painting, filming etc.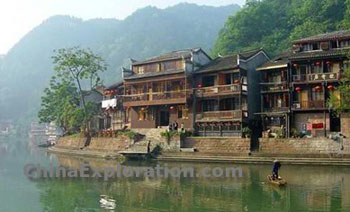 And its ancient city was built in 686 in Tang dynasty, it former named Weiyang, and in ancient time, its location was in today's Huangsiqiao town about 24Km from present-day Fenghuang, ever was a main military camp. The city moved to its present site during about 1368-1644, and its major inhabitants were soldiers, sent to quell Miao ethnic minority "riots" by Ming Dynasty government. And most of the wooden buildings in the city were built by Miao and Han people in Qing Dynasty (1644-1911), the ancient architectures have been kept intact, including the primitively simple and tranquil slabastone or flagstone paved streets and the stilted houses with strong local flavours on the river banks.

The red sandstone city wall stands on the river bank, about 2Kms long, and the original city wall built in Kangxi reign has collapsed. The eastern and northern gates kept well, but no traces now for the southern and western gates.

The attractive events are the Bianbianchang fair among the Miao group's young people, the Miao villagers' singsong contest in antiphonal style, flower-drum dance with coloured silk as their strong sound. And also the Suona Horn performance in the liquor service and the singing at the village entrance attract your eyes, and you can enjoy the Siyueba (08April) festival with singing and dancing around flowers by the moonlight.
Main attractions of Fenghuang old town
The Southern Great Wall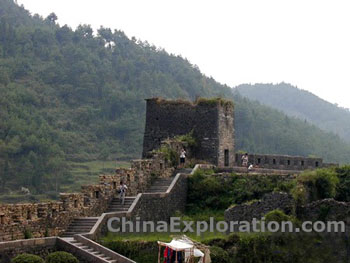 According the history records, besides the Great Wall in North China, there is another Great Wall of South China. This South China Great Wall was first found in Fenghuang County in April 2000. Consisting of over 1300 stations, castles and blockhouses, the total length of the South China Great is around 200km.
Yellow Silk Castle

It is located in Ala town, 25 kms west of Fenghuang. It was initially built in Tang dynasty ( 670 AD ). As the important watch tower of Xiang and Qian boarder, the government built it as the most important castle for protection.
Climate of Fenghuang
| | | | | | | | | | | | | |
| --- | --- | --- | --- | --- | --- | --- | --- | --- | --- | --- | --- | --- |
| Month | Jan | Feb | Mar | Apr | May | Jun | Jul | Aug | Sep | Oct | Nov | Dec |
| Temperature (Celsius) | -3.1 | -2.3 | 8.5 | 18.1 | 22.8 | 26.0 | 30.8 | 31.4 | 25.4 | 20.4 | 13.1 | 8.7 |