Introduction of Dalian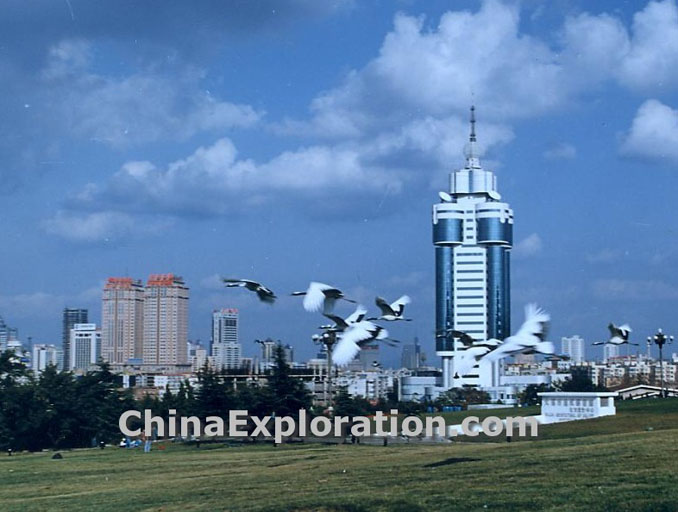 Dalian is a coastal city in China's Northeastern Liaoning Province. Population anywhere from 5 to 7 million people depending on who you talk to, and whether you count the city's expanding suburbs. Like many cities in China it is developing at a blistering pace, with skyscrapers being erected faster than they can be filled. The city is blessed with a beautiful environment, favorable location and strong industrial base. Its advantage as a port city has been the most attractive feature for overseas investors. Dalian tries to upgrade its port and build itself into a regional and international shipping center. Attached with various name-tags and reputations, ranging from " The City of Travelers", to "The City of Soccer" and "The City of Fashion", Dalian has something to offer almost all visitors, whatever the time of year.
Main attractions in Dalian
Bangchui Island

Bangchuidao Scenic Area (Bangchuidao fengjingqu) is located at the eastern end of the beach road, a short drive along Binhai Lu, home to Numerous Party Members and Football stars. The northern side of the area is encompassed by mountain ranges and the southern stretch is an area of pretty, soft sand. From here, there are good views of Sanshan Island, which is often shrouded in mist. The beach here was once reserved only for Party Members and stars, but today it is open to the public.

Fujiazhuang Beach:

Fujiazhuang Beach (Fujiazhuang fengjingqu) is arguably Dalian's nicest beach, most famous for its 550-meter-long stretch of golden sands and the turquoise sea lapping against the shore. The slightly more remote location makes this a more secluded and less developed beach than many other that Dalian has to offer. There are speed boats from here to other bays in the area and a few hotels and villas are currently under construction, in response to the increased numbers of travelers and sun- seekers. Get there before it becomes too popular!!

Polar Aquarium:

A trip to polar regions shall be an unimaginable experience to average people, yet coming visitors here to the Polar Aquarium find themselves in a crystal ice-snow world anytime of the year. The aquarium was opened in 2002, animals both from the south polar and the north polar regions, including polar bears, penguins, polar belugas and sea elephants share neighborhood here. Altogether the aquarium has 11 species of 153 polar animals and it also boasts of 3,000 fish. Standing in a 360o channel one seems to live together with the multitude of fish. A showcase of 300-odd sharks and performances by dolphins also deserve high recommendations as well. In the sea animal section, one can touch fur seals, sea dogs, and sea lions. It is currently the largest polar aquarium in the world.

Xinghai Park

It is located by the sea, Xinghai Park and beach comprises of an 800-meter-long beach and a huge park area, filled with a nice collection of flowers and plants, a small fair and a huge Ocean World. You can climb up to the top of the cliffs that tower above the western and eastern sides of the bay and there are fantastic views from up here of the bay and sea beyond. The beach here has fine sand, moderate waves and a good water depth- making it ideal for swimming. Not far from the beach stands a huge rock in the sea which, according to local legend, marks the spot where an army of cuttle fish triumphed against sharks in a major ancient combat. Local people believe that the area will never again be troubled by sharks, and consider this spot very safe for swimming- believe the local legend if you dare!! The park itself, is another ball-game altogether; with a Ferris wheel, rides and restaurants. Sun Asia Ocean World is also located here, a huge Chinese, New Zealand and Hong Kong run venture, featuring more than 200 different types of marine life, complete with viewing platforms and underground tunnels.

Zhongshan Square

Zhongshan Square is situated in what would be the tiger's eye if we see the entire Liaodong peninsula as resembling a tiger's head. The major theme and activity here is music and this 22,000 sq meter square is fitted with world class audio systems and strong powered speakers. In the evenings, crowds gather here to dance. Opera performances, plays and concerts are common too. The square is surrounded by European style architecture. Many of these buildings were built by the Russians before the the end of the Russo-Japanese war. The skyline behind the old buildings is dominated by modern skyscrapers, a symbol of the future of this vibrant city.

Climate in Dalian
| | | | | | | | | | | | | |
| --- | --- | --- | --- | --- | --- | --- | --- | --- | --- | --- | --- | --- |
| Month | Jan | Feb | Mar | Apr | May | Jun | Jul | Aug | Sep | Oct | Nov | Dec |
| Temperature (Celsius) | -4.9 | -3.4 | 2.1 | 9.1 | 18.5 | 19.4 | 23.0 | 24.0 | 20.6 | 13.6 | 5.8 | -1.3 |