Introduction of Dali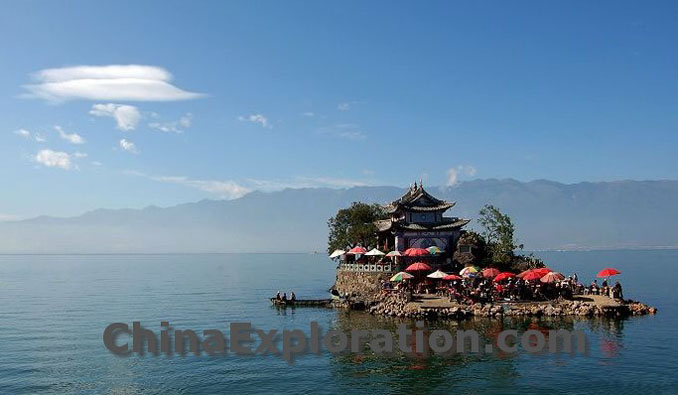 Dali is located in 392km (243 miles) Northwest of Kunming, 150km (90 miles) S of Li Jiang. The charming town of Dali, traditionally one of the best places in China to tune in, turn on, and drop out for a while, remains a wonderful place to visit despite the increasing commercialization brought by tour groups. Its small size belies its important place in
Yunnan's history: During the Tang dynasty (609-960), Dali was the capital of the Nanzhao Kingdom, and during the Song dynasty (960-1079), it was the capital of the Dali Kingdom. Deserted after Kublai Khan overran Dali in 1252, it was reconstructed during the Ming dynasty (1382). Today's Dali is the capital of the Bai Autonomous Prefecture (although it's run from Xiaguan). Located in a mountain valley at an elevation of 1,948m (6,496 ft.), Dali is sunny year-round, though winter nights can be chilly. The best times to visit are between February and October, when the majority of festivals take place.
Main Attractions in Dali

Dali Old Town

The ancient city is located at the foot of Cangshan Mountain and western bank of Erhai lake. It was set up in 14th century as the capital of Dali kingdom. Now some old houses with dark blue tile roofs and stone wall can still be seen. You'll have a enjoyable time for having a rest in "foreigner street" and walking in the road paved with slab stone.
Erhai lake & Erhai park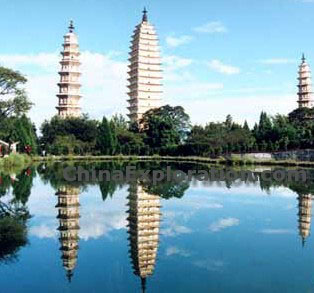 Erhai, which just as its name implies, has the from of a human ear and is the second largest lake in Yunnan. It covers on area of 250sq km. Having a pleasure trip by boat in the lake win make you refreshing. Erhai park is at the southern end of the lake. Once the site of a deer hunting preserve of Nan Zhao kings, but now densely covered by pine trees and cedars and camellia pushes.
Three Pagoda Temple

These three landmark pagodas, dating back to the Tang and Song period, stand just to the north and add a touch of grandeur to the ancient city. The major pagoda is 207 feet high and divided into 16 tiers, while the two smaller one's are 129 feet tall and 10 tiers each.
Xizhou Bai village

It lies in the western bank of Erhai lake. It's a typical Bai village and noted for their houses with elegance and delicate design. Two layouts if architecture are called "San fang yi zhao bi"- rooms on three side with a wall on the remaining side- and "si he wu tian jing"- One big courtyard with four smaller ones at each corner of the main one. You may enjoy three courses tea that Bai entertain guests in the village.
Jianchuan grottoes

Shibao mountain is situated in Shaxi village, Jianchuan county. Jianchuan grotto caves lies in Shibao Mountain. These are important grottoes with typical ethnic characteristics of southern China. There're 16 caves, 139 life-like sculptures of various shapes, which reflects a fusion of Chinese and Tibetan cultures. They're art treasure of the Nanzhao Kingdom and Dali Kingdom.
Old town of Shaxi

Shaxi town is at southwest of Jianchuan county. Jianchuan grottoes are in its neighbor. The main Nationality of the town is the Bai. Shaxi has along history, it used to be a flourish market on the ancient Tea and Horse Caravan Trail and reached its period of great prosperity from 7 to 12 century. The Tea and Horse Caravan Trail ran through Sichuan and Yunnan, linking India and Tibet with southeast Asia. The road passed through Dali,Lijiang and Zhongdian. Shaxi town, being considered a distributing center, was a only way the caravan must pass. Shaxi is noted for its well-preserved theatre, temple, shops and stone slab streets etc.
Climate of Dali
| | | | | | | | | | | | | |
| --- | --- | --- | --- | --- | --- | --- | --- | --- | --- | --- | --- | --- |
| Month | Jan | Feb | Mar | Apr | May | Jun | Jul | Aug | Sep | Oct | Nov | Dec |
| Temperature (Celsius) | 8.6 | 10.5 | 14.5 | 17.5 | 20.8 | 20.8 | 20.8 | 20.4 | 18.4 | 16.0 | 11.7 | 8.3 |