Introduction of Chongqing

With a history of over 3,000 years, Chongqing, the birthplace of Ba and Yu culture is one of the least well known but most important historical cities in all of China. Today, little of this interesting past is visible and the city is essentially an industrial mass. Much of it is dirty and seedy but there is a lively atmosphere prevalent about the place that often goes hand in hand with the more "hardcore" cities in China.
The area known as Chongqing became the capital of the Ba State in the 11 century BC under the mythical King of the Yu. By the 12th Century AD, this small city had grown in size and was renamed Chongqing, meaning "Double happiness" in Chinese. The city withstood attack and was one of the last Kuomingtang bastions. In 1997, Chongqing separated from Sichuan to become an independent prefecture in its own right. Today, this vast southwestern dynamo is known as Chongqing Municipality.
Main attractions in Chongqing
People's Great Hall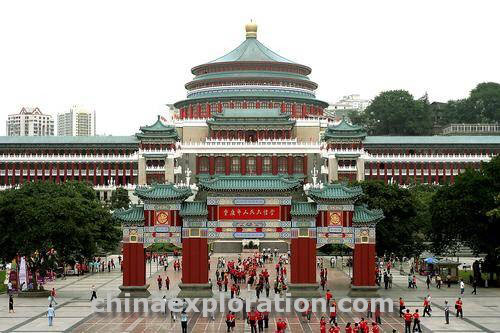 It is situated on Renmin Lu, the People's Great Hall(renmin dahuitang), which was completed in April 1954, is an example of typical Chongqing architecture. Covering an area of 18500 square meters, this five-story rotunda is 65m high and 46m in diameter, spacious enough to hold over 4200 people and slightly reminiscent of the Temple of Heaven in Beijing.

Dazu Stone Carving

Dazu County, 162 km northwest of Chongqing, is very popular for its stone carving Buddha Statues - more than100 locations and 100,000 statues. These sculptures are a mixture of Buddhism. Taoism and Confucianism. Two of the locations are the most noted: Beishan (Northern Hill) and Baodingshan (Treasured Peak Mountain), listed by UNESCO (UN Education, Science and Culture Organization) in 1999 as " the World Cultural Heritage " .
The Northern Hill is a km away in the Northwest of the city of Dazu. The first statue was created in late Tang Dynasty (9 century), with more than 10,000 statues. Baodingshan (Treasure Peak Mountain) is 15 km to the Northeast of the city, first sculpted in South Song Dynasty (1179-1249). Centered at Dafowan (Grand Buddha Bay), nearly 10,000 Buddha statues are displayed along a 400 long U shape hill ridge, like a great picture roll unfolding before your eyes! The sculptures belongs to the later period of the grotto arts and indicates the rise of grotto carving in Sichuan after its decline in north China. Among these sculptures, you can see the 31 meter-high Nirvana of Sakyamuni, the 88 square meters " Thousand-Handed Avalokitesvara " and the 7 meter-high " Huayan Three Buddhist Images " as well as the ordinary secular sculptures like " the girl flute-player " , " the girl chicken-raiser " and so on. All these stone sculptures are well structured and vividly made.
Eling Park: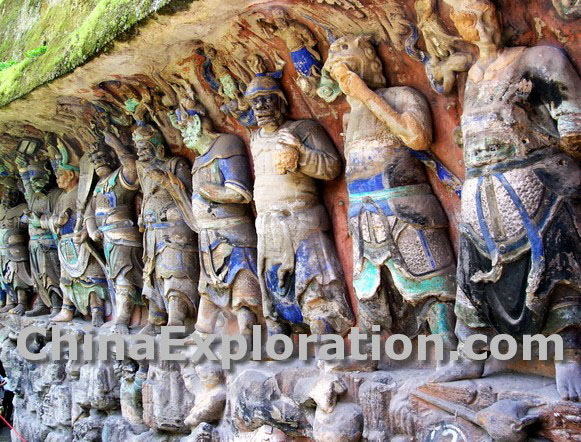 The Eling park at 350 meters up offer a grand view of both the Yangtse and Jialing Rivers. It located in the Changjiang Lu, Yuzhong district,. The park was built in 1909 as a private garden, and was originally the home of Lee Yaoting and his son, a rich businessman. It was called " courteous park " at that time. Eling was originally named Edingling (Goose Nape Hill), for its narrow shape resembling the nape of a goose's neck. It faces Yangtze River to South, close Jialing River to north, get near downtown to east. It was on the mountain of the city.
Because of its good location and beautiful natural scenery, it was to be the ideal places for rest and visit for long history. Many famous people have stayed or visited here for different reasons, such as Mr. and Mrs. Chiang-Kai-Shek, the premier of Kumingtang, Feng Yuxiang, Lin Sen, Sun Ke, Song Ziwen, He Yingqin, Yan Xishan, Chen Cheng, they all were the important ministers of Kumingtang. The Britain ambassador Karer had stayed here for 5 years. 1950, the Courteous Park was the location of Southwest military area. The minister of Chinese CPC, Dong Biwu, Liu Bocheng, Helong had lived here. The park has towers, pavilions and bamboo groves of unique styles. with special plant species and a newly built tower (Liangjiang Pavilion) provides views of the entire city. In 1958, large-scale of restoration was carried out on the site of Lee Garden and the park was renamed " Eling Park ".

Climate in Chongqing

Chongqing arguably has one of the most unpleasant climates in the country, situated in the subtropical zone and fostering an intensive and moist atmosphere. The annual average temperature here is 18 oc with lows of 6 to 8oc in winter and highs of 27 to 29oc in summer.
| | | | | | | | | | | | | |
| --- | --- | --- | --- | --- | --- | --- | --- | --- | --- | --- | --- | --- |
| Month | Jan | Feb | Mar | Apr | May | Jun | Jul | Aug | Sep | Oct | Nov | Dec |
| Temperature (Celsius) | 7.0 | 9.1 | 14.2 | 19.0 | 22.1 | 25.0 | 32.2 | 38.2 | 31.1 | 28.0 | 20.0 | 14.2 |