CE-WL-02
Have you thought of watching panda in the wild nature instead of the cage in zoo? There are many wild pandas live in the wide forest in the nature reserves of west China, such as Wolong, Wanglang, Fengtongzhai, Tangjiahe, Foping, etc. Actually it is quite difficult to see panda bear in the forest because panda is an alert animal, it may smell human being and run away when people are miles away from them, but it is still interesting to look for their foot prints and waste in the virgin forest, even encounter the panda, who knows? And in some of the nature reserve, you can detect panda with GPS!

China Exploration has long been organizing wild Panda Watching tours and our trips have covered the main panda nature reserves in China. Below is a few of our products for your information. If you are interested, just write to us!

Panda and wild animal watching in Mid China( Wild Panda, Snub-nose Monkey )
In Middle China, Mt Qingling series is the paradise of wild animal and plants. A lot of animal take it as their ideal residence, such as Giant Panda, Golden Monkey, Deer, white Bear, various birds, etc.

In this trip, we will bring you to the Tangjiahe Nature Reserve in Sichuan Province, and then Foping Nature Reserve in Shanxi province. Both of them are easier for access. In this trip, we will take you to search for wild panda, Golden money and more. Be careful, they may just hide in the tree one meters away from you!
Brief Introduction About Tangjiahe National Nature Reserve:

Tangjiahe Nature Reserve was founded in 1978 by Sichuan province government, and upgraded as the national class nature reserve mainly protecting Giant panda and its residency in 1986. It is a nature reserve of both protecting wild animal and forests. It is about 40,000 hectare located in Qingchuan county, north east of Chengdu. It is belong to the Mingshan mountain series.
There are diverse recourses in Tangjiahe Nature Reserve. According to the investigation, there are 430 spinal animals, and 72 of them are in the national list of special protection, even first class protection animal reached 13 types. It is said about 60 giant pandas, more than 1000 golden monkeys ( Brelich's snub-nose monkey ), over 1200 takins lived here, and also there are more 2422 plants series, and 12 series are in national class special protection. It is one of the main residence of Giant panda, and classified by the WWF as the A class nature Reserve, also the hot place for study wild animal worldwide. It has the reputation of "Natural Gene Stores ", " Home of Life" , etc.
Brief Introduction About Foping Nature Reserve:

Foping nation Nature Reserve
, located in South of Mt Qingling, about 215 kms away from Xi'an, is a nature reserve mainly protecting giant Panda and other wild animal and forest. It occupied 35000 hectare with sea level from 980 ms – 2904 meters. There are 1598 series of plants, 265 series of wild animal. Among them, Giant Panda, Takins, Golden Money and leopard are in the list of national first class wild animal protection. It has the reputation of Natural Plants Gene Store. It is an ideal place for holiday, sightseeing, hunting and adventure.
Schedule:

D2 Chengdu / Tangjiahe River Nature Reserve
Drive to Tangjiahe River Nature reserve in the morning. Enjoy the landscape of Sichuan Basin and transfer to the mountain area gradually. Arrive in Tangjiahe village in the late afternoon, learn about the Nature reserve there.
D3-5 Tangjiahe Nature Reserve
We will stay in Tangjiahe Nature reserve for 3 days, with local crew escorting, we will try to search the trail of wild animals in the forest. Panda is the most important animal in this nature reserve, besides it, Golden Monkey, antelope ( Blue Sheep ). Night in local guesthouse.

D6 Tangjiahe / Guangyuan / Hanzhong / Foping
We will continue our driving from Tangjiahe nature reserve to Foping Nature reserve. We will drive cross the huge Qinling mountain and enter Hanzhong basin.

D7-9 Foping Nature Reserve
We will stay 3 days in Foping nature reserve. Foping Nature reserve is also famous for protecting Panda, besides Panda, Golden Monkey, Blue sheep, and leopard are also its important animals. Night in local guesthouse.

D10 Foping / Xi'an
End our wild animal tours and drive to ancient Xi'an city. Free in the afternoon.

D11 Xi'an
Your wild life exploration is completed today, and then you can fly to other cities for tours.
CE-WL-03
Wolong Panda Watching Tour
Wolong Natural Reserve is situated in the transitional zone between the Sichuan basin and Tibetan plateau, 140 km northwest of Chengdu, and covers an area of 2000 square kilometer. In 1980 the Giant Panda Research and Protection Center was set up by the Chinese Government in cooperation with the World Wild Fund of Nature (WWF). At the same year the Wolong Natural Reserve was accepted by UNESCO as member of MAB natural reserve network.
Wolong is known as the "Hometown of Giant Panda" because of its rich recourses of Giant Pandas. Except the giant panda, various ecology environments also provide a habitation for many rare animal and plants. Some 103 mammals, 281 birds, 21 reptiles, 1700 insects and 4000 plant species are found in the reserve. It was reputed as "the Gene bank of nature species" and "natural animals and plants field".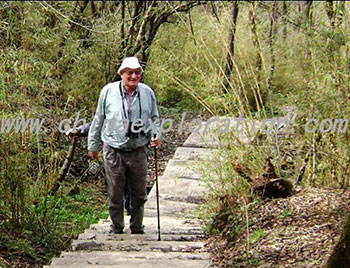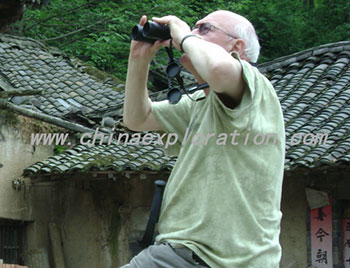 Itinerary

D1 Arrive in Chengdu, prepare for the trip.

D2 Drive to Wolong Nature Reserve. Enjoy the landscapes en route. Arrive in Wolong Panda Breeding Center at noon, and see Pandas in the open yard. Also drop a visit in Wolong Panda Museum, which will tell you more knowledge of Panda.

D3 In the morning we will hike up the Wuyipeng, and we will try to look for pandas in the wide valley. It is a mild hiking, besides searching for the panda in the virgin forest, you can also enjoy the beautiful mountain. Just relax. Night in the scientific observation station at the mountain.

D4 Continue to search for Panda in the morning, and walk down the mountain in the afternoon. Overnight at Hotel .

D6 Drive to the top of Mt. Balangshan ( 4480m), enjoy the beautiful scenery of cloud sea, mountain peaks, where you have chance to watch some species of high mountain animals and birds. Descend the mountain at noon and drive back Chengdu.

Testimonial

Time: April 20th to May 4th , 2010
Mr David Leonard Prynn from UK succeeded his wildlife watching trip with China Exploration. He visited Foping nature reserve, Wanglang Nature Reserve, Black Bear Protection Center and Wawushan mountain.