CE-TK-07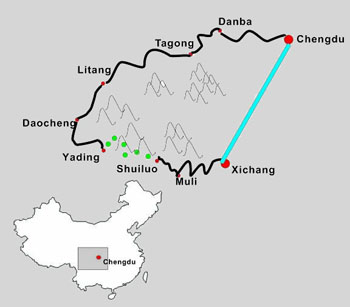 The Mysterious Muli Kingdom seats in the remote region of East Tibetan Plateau, containing grasslands and old growth forests- some of the last in China. When U.S. botanist and explorer Joseph Rock first visited the Gelugpa Buddhist kingdom of Muli in 1923, he reported finding a beautiful but poor land, home to various ethnic groups, a despotic king, and bandits and robbers who controlled vast parts of the remote region. Rock was fascinated by the beauty and seclusion of Muli, not to mention the difficulties of travel in the region, calling it "a land where robbers turn from pillage to prayer" in a National Geographic article published in January 1931. Nearby are the pretty Konkaling peaks, which represent some of the finest mountaineering challenges left in eastern Tibet. The locals adored the peaks as Chenrezigs, Chanadorje and Jampayang.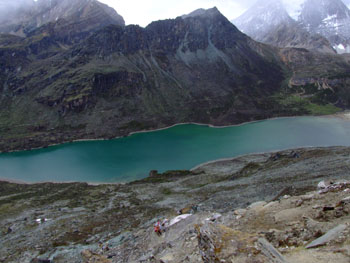 China Exploration designed this program in order to show traveler the isolated beauty of Muli kingdom and Shangri-la in East Tibetan plateau. And travelers can also experience the unique ethnic heritages en route. It is a strenuous trekking, strong health condition is required, we do about 20 Kms every day in average , and most of the time the sea levels are around 4000 meters , the highest mountain cross is about 4900 meters . Strong physical health condition is required. It will be a lifetime experience for us!

Trekking Grade: Strenuous.
Itinerary:
D1 Kunming/ Lijiang
Fly to Lijiang via Kunming or other city.
D2 Lijiang Old town exploration
Free to explore the old town in the afternoon, such as the Square Street, Black Dragon Park, Rock Joseph village, etc.
D3 Lijiang / Luguhu Lake     Driving 198 km 
Drive to Luguhu Lake in the morning. Enjoy the mountain and Yangtze river en route. In the afternoon walk around the beautiful lake. In Luguhu, local Moso ethnic minority still remains the society system of matriarchal, you can be guest in local family to explore this prehistory society.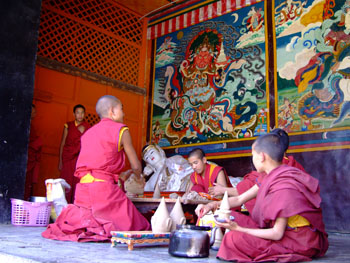 D4 Luguhu Lake / Muli Town   Driving 192km
Today we will drive to Muli Town all the day. You will enjoy the big mountain, waterfall en route. Arrive in Muli in the late afternoon.
D5 Muli Town / Muli Monastery / Dulu  Driving 140 km   
In the morning we will drive to Muli Monastery in the country side, in early 20th Century, American adventurer Rock Joseph stayed here and became friends with the Tusi, or the king of Muli. The monastery still remains, we will drop a visit in it, and in the afternoon continue to Dulu village, prepare for the trekking.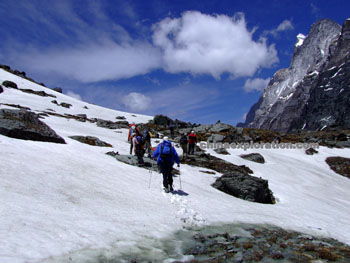 D6__10  Dulu / Yading / Daocheng      Trekking 20 km per day
Under escort of Muli Tusi, Rock Joseph traveled from this route to Daocheng in early of 20 century. And today we will use 5 days to trek along his trail, it will be from Dulu village to Yading national park in Daocheng county. It will be a bit difficult in some area, and we will cross mountain pass above 4900 meters, but nature is extremely beautiful in this route, lakes, snow peaks, ice glacier, etc. It could be the most deserved trekking in the world. Camping in the evening.  
D11 Daocheng / Tagong   Driving 396 km
The trekking is finished, and we will drive to Tagong in east boarder of Tibetan Plateau. You will relax in the air-conditioned car to enjoy the beautiful waving mountain of Tibetan plateau.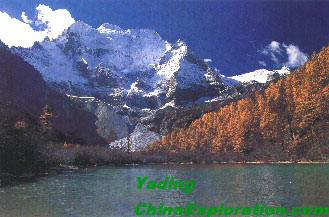 D12 Tagong / Danba         Driving 111km 
Drive to Danba in the morning, enjoy the beautiful Tagong Monastery, Mt Yala and Huiyuan Monastery en route. Danba is famous for Jiarong Tibetan culture, here we will explore the Tibetan Tower style castle and villages in the late afternoon.
D13 Danba /Chengdu   Driving 320km  
It is still a driving day for us. But it is not boring with so many scenes to be visited, such as the Four Girls 'Mountain, Wolong Panda Garden, Mt Balang, Dujiangyan,etc. Arrive in Chengdu in the late afternoon. To have a nice Sichuan banquet will drive away all of the exhaustion.
D14 Chengdu departure
Fly to other cities. Travel finished. END
Seasons: May, June, July, August, September