Two-day Great Wall Hiking from Huanghuacheng to Mutianyu

D1: Huanghuacheng to Xishuiyu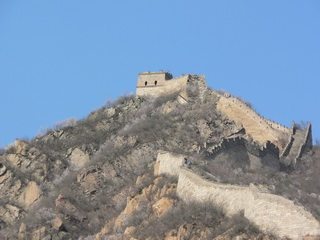 Maybe it is not as famous as Badaling or Juyongguan sections of Great Wall, but Huanghuacheng Great wall is quite worth visiting. It is located about 65 kilometers (40 miles) north of Beijing at the town of Jiuduhe of Huairou District.
Today we will start at 8:00am from your hotel and the whole drive takes about one and half hours. Huanghuacheng in Chinese means 'Yellow Flower Fortress', as there are a lot of yellow flowers blooming every spring here in the mountains, hence the name. Huanghuacheng was an area with many villages in the Yuan Dynasty (1279AD-1368AD). Then in the Ming Dynasty (1368AD-1644AD), it turned into a rich and prosperous area due to the construction of the Great Wall, because strategically speaking, Huanghuacheng was very important to the capital city of Beijing at that time.
Our hike today is not that difficult and it will totally last about 4 hours, of which during the first two hours we will trek on the restored part. There are several up-and-down parts today, however fortunately the mountains here are not that high or steep. The second part of the wall is still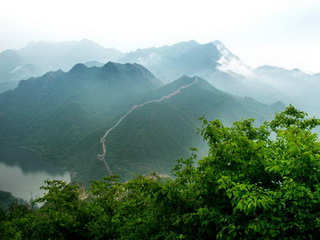 preserved very well nowadays with original watchtowers. In the end we will hike to a tower where you will be able to see a beautiful lake at the bottom of the mountains, which is located near Xishuiyu Village. Then we walk down on the mountain path to meet the driver in the village at the foot of the Great Wall. We will have lunch at a local farmer's restaurant and then drive to Jiankou. It takes about one and half hours to drive to our hotel near Jiankou. The hotel is located in a village at the countryside of Beijing and it is very cool staying here overnight.
D2: Jiankou—Mutianyu
After breakfast we drive to a village near Jiankou Great Wall. It takes about half an hour and we will drive on the winding mountain road. You will be amazed by the views on your two sides and you will see the real and beautiful countryside of north China.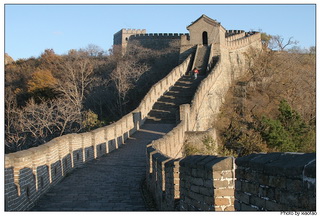 From the village at the bottom of the Great Wall it takes about one hour to get to the top, which has a height of about 1,000 meters (3000feet) above sea level. Zhengbeilou, which is the name of the tower at the top, is a nice place to take photos of the view. You will see the authentic and wild wall constructed on the curvaceous and breathtaking mountain ridges. It is hard to imagine how much hard work and efforts it took the ancient Chinese people to build this part of wall.
From Zhengbeilou we are going to hike to Mutianyu section of Great Wall and it takes about two hours, during which you will trek on the old and original wall where numerous trees and plants are scattered around because of a long history and no restoration during the past 300 years. There are also lots of wild fruit trees growing on the two sides in the mountains, such as chestnut, walnut and apple trees, which attract a lot of squirrels. If you are lucky enough, you can see some squirrels looking for food on the Great wall.
When arriving at Mutianyu section, the view is totally different. First of all, this part has been renovated and it is much easier to walk here compared with the last part. Secondly you are already on the highest part of Mutianyu and during the rest of the hiking you will walk always down. In the end you have the option of walking, taking the cable car or the toboggan down to the parking lot of Mutianyu. Taking toboggan is a lot of fun and therefore is strongly recommended. After meeting the driver we go directly back to your hotel in Beijing.